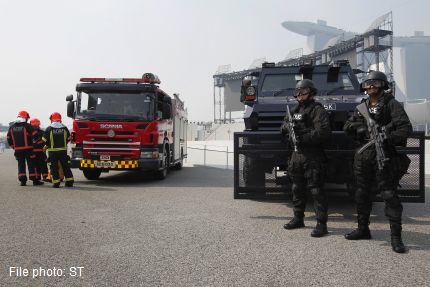 The Singapore Civil Defence Force (SCDF) will be conducting a ground deployment exercise at the Marina Bay Floating Platform on Tuesday, 23 July 2013. The exercise will begin at 1.00am and end at about 3.00am.
Such exercises are part of SCDF's on-going efforts to validate and update operational plans and procedures. Related agencies such as SAF and MOH will also be involved in the exercise.
The public is advised not be alarmed. All operational vehicles participating in this exercise will have their beacon lights switched on to alert motorists. Exercise signages will also be placed in the vicinity to alert members of the public to the exercise.
To facilitate the movement and deployment of our emergency vehicles, up to 3 lanes will be closed along Raffles Avenue between the junction of Temasek Avenue and Raffles Link. The lane closures will be in effect from 1.00am till the end of the exercise.