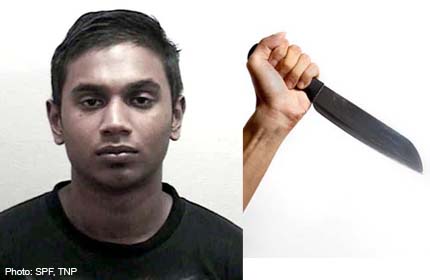 SINGAPORE - A young man was slashed across the face simply because he once called his attacker ugly in front of a girl, a court heard yesterday.
Mr Ramsharan Pillai, 20, was smoking outside a pub when he was recognised by his assailant - a tagged former offender with a string of offences to his name.
"You said I am ugly, is it?" the knife-wielding 22-year-old asked in Tamil before slashing Mr Pillai from his left ear to his jawbone.
Yesterday, Vicneswaran Subramaniam - who also carried out unprovoked attacks on two other men - was sentenced to 31/2 years in jail and nine strokes of the cane.
The court heard he committed the offences last year after being released from the Reformative Training Centre on a tagging scheme.
On July 14, he noticed Mr Pillai outside Dreamz Pub at Boat Quay.
Vicneswaran - who had removed his electronic ankle tag - remembered that the victim had once called him "ugly-looking".
He slashed Mr Pillai's face with the foldable knife - leaving a 15cm cut - before fleeing.
A medical report said the victim may require scar therapy or surgery.
The court heard that Vicneswaran carried out a separate assault on Indian national Rajdeep Singh, who was sleeping on a stone bench with his mobile phone on his chest.
After noticing the 30-year-old construction worker's handset, Vicneswaran decided to try to steal it. But Mr Singh woke up and an argument broke out.
Vicneswaran punched him in the face, while an accomplice knifed him in the back, the court heard.
Mr Singh suffered injuries including a broken nose and a stab wound during the Aug 26 attack, which happened outside Dhoby Ghaut MRT station.
Vicneswaran assaulted his other victim, Mr Kugan Kesavan, after pestering him with prank calls.
After the second call, the conversation degenerated into an exchange of insults and vulgarities.
Mr Kugan, 24, hung up on Vicneswaran.
The pair later agreed to meet at a park next to Republic Polytechnic in Woodlands, said Deputy Public Prosecutor Chloe Lee.
But before going to see his victim, Vicneswaran went home and picked up a bread knife.
He used it to slash Mr Kugan, who was sitting in his van.
The victim ended up with cuts to his legs after he raised them in self-defence during the July 7 attack.
Vicneswaran, who has a one-year-old child with his fiancee, pleaded guilty to charges including causing grievous hurt, removing his tag and consuming methamphetamine.
In his written mitigation plea, he pledged to study for his N or O levels while in prison and to take up programmes to improve his skills.
His previous offences include cheating by impersonation, affray and robbery with hurt.
In 2009, he was sentenced to reformative training, a strict regime that involves spending between 18 months and three years behind bars.
Yesterday, District Judge Jasbendar Kaur said she agreed with the prosecution that Vicneswaran's crimes were of a very serious nature.
She added: "The callous manner in which you committed the offences, the indiscriminate manner in which you used the weapon in attacking the victims is something that I need to take into account."
elena@sph.com.sg