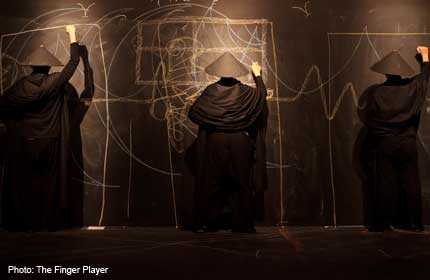 SINGAPORE - When the Esplanade's programming team informed me that they were resurrecting The Book Of Living And Dying, a visible shadow of doubt must have crept across my face.
The Finger Players' existential piece about past lives and future dooms premiered at the Singapore Arts Festival last year. I hadn't liked it and gave it a rather damning review.
To my mind, at least, the plot unspooled haphazardly and, for a show about death, its running time seemed frustatingly immortal. Storylines and characters simply refused to cohere and were interspersed with what I felt was philosophical mumbo-jumbo.
But something quite miraculous occurred when I stepped into the Esplanade Theatre Studio to watch the show for the second time two weeks ago.
It was, more or less, exactly the same show. But it was beautiful. Everything fell into place in a more well-equipped space and with the benefit of lying fallow.
Sure, there were some questionable moments but the blend of intimacy and ambition of the work, its locus of a father-daughter relationship refracted through the centuries, was packaged into a well-paced 90 minutes. I emerged feeling relieved. Instead of encountering a zombie, I had a whiff of nirvana.
Director Chong Tze Chien wrote in the programme notes: "It is not often that productions in Singapore get a second staging."
This phenomenon seems to have become less of a rarity.
There are several different types of restagings. Some revivals have a more adapted feel, incorporating updates, a change in direction, or completely new material, transforming the original production into quite a different creature.
In this case, I am thinking of reruns that adhere closely to the original work, meaning that the direction, script and cast are kept largely intact and that there are no large shifts in interpretation. But yet, as the saying goes, the show stands out as "same same, but different".
There have been a number of shows brought back over the past few years, including Wild Rice's The Importance Of Being Earnest (2009 and 2013), The Necessary Stage's Gemuk Girls (2008 and 2011), The Finger Players' Poop (2009 and 2010) and Teater Ekamatra's Charged (2010 and 2011), just to name a few.
Each time, the productions (all well- received the first time round) somehow managed to bring back a different sort of magic, almost as if they had acquired a lived-in, more comfortable feel, wearing each performance like a suit that had been tailored to fit just that much better.
If the cast stayed the same, actors knew the lines better, had a surer grasp of the rhythms of the work and sometimes, a deeper emotional response to their characters - perhaps equipped with newfound perspectives on a role they now knew even better than before.
Actor-director Ivan Heng stepped back into the beaded slippers of Emily Of Emerald Hill in 2011 and had thousands of audience members on their feet for standing ovations - for a role he first inhabited more than a decade earlier in 1999.
"I know her," he told me during a rehearsal, "It all came back to me."
And finally, for each rerun, there was a heightened sense of overall vision, of cohesiveness.
Bringing back a play at a different time means that the work fits differently into the social and cultural fabric of the audience and its environs, and this also affects the context they bring with them to the play.
Take Wild Rice's political docudrama Cooling Off Day, for instance, which was first performed hot on the heels of the 2011 General Election, and then restaged in time for the 2012 President Election.
The first thrived on the immediacy of its response to the watershed parliamentary election, of Singaporeans' expanding political consciousness.
The other played to audiences who might have descended from that political high, but it was nonetheless a crowd gearing up for another key decision, and with the gift of hindsight and critical distance.
As a viewer, there is a frisson of pleasure to be found in the anticipation of that favourite moment or scene, hearing the newer audience members gasp in collective awe or dissolve into laughter as they stumble across a funny line for the very first time.
It also allows second-time audiences to zoom in on subtext that might have been overlooked on the first watch. With the blessing of context and without the burden of expectation, a rerun allows you to finetune your senses to the little things. Perhaps the inflection of a certain line, or a clever detail in the set.
The Guardian Australia's columnist Alison Croggon, who pondered the issue of repeat viewings, recently posted online: "Theatre might have been invented to illustrate Heraclitus's dictum that you can never step into the same river twice."
When one watches a film on repeat, the constant factor contributing towards your shifting views of the work is yourself: You decide which environment to rewatch it in, and your emotional state governs your response.
When you watch a play, however, the variables are endless.
Watching the matinee and evening show of the same production could translate into entirely different experiences - both for the actors and audience members, which is probably one of the reasons why popular playwright Michael Chiang has watched almost every performance of Army Daze in all its six stagings.
He told me that he revels in the dynamism of the live show, the call and response between actor and audience, even though the script and cast are exactly the same every time.
This is, perhaps, one of the things that prompts theatre audiences the world over to watch their favourite Broadway and West End productions multiple times, even when each touring show is meant to be an exact replica of the original.
Last year, I caught the jukebox musical Jersey Boys twice - once at the beginning of its run at Marina Bay Sands and another towards its close.
I watched it with different groups of people, and I found myself glancing at my companions the second time around, trying to read their faces, revelling in the smiles that formed quickly across their faces when that oh-so-familiar Can't Take My Eyes Off You began to play.
I suppose first impressions count, but it is the second date that matters.

Get a copy of The Straits Times or go to straitstimes.com for more stories.