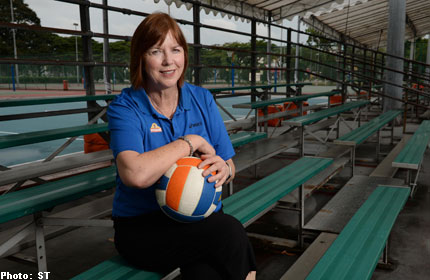 SINGAPORE - Ruth Aitken has not had an idle moment since touching down in Singapore on Monday night.
In just two days, Netball Singapore's new technical director and national coach has already watched the national team in action, observed the Under-21 squad train, sorted out all the necessary paperwork for her stay here, and even scouted for an apartment.
In between all that, she still has time to tend to a lingering worry.
"The names," the 56-year-old joked on Thursday at the sport's Kallang headquarters.
Mastering the pronunciation of her new charges' names may be tricky for the New Zealander, but she has never been one to shy from a challenge.
In fact, the thirst for a new challenge was precisely why Aitken - who has won the netball world championship both as a player and a coach with the Silver Ferns - signed up for the job in Singapore.
"I love different challenges. It's that whole thing about helping others grow and develop, and become the best that they can be," she said.
New Zealand are the world's top team. Singapore, the Asian champions, are ranked No. 21.
Said Aitken, who has been engaged on a two-year contract: "Coaching is all about acknowledging where the individual is, and working out how to take them to the next level.
"It's being aware of the needs of the player, instead of me coming in and saying, 'This is what we do, now get out and do it.'
"Coaching with a remote control is not what I like to do."
Aitken, who holds a Masters in English and had a career as an English teacher before putting on the coaching hat some 33 years ago, believes that Singapore can look beyond just reigning supreme in Asia.
"The team's done incredibly well winning the Asian Championship (last year)," she said. "Good people have been involved in the programme. It's about me now adding value."
Aitken aims to help the Republic move up by about five rungs within the next year and a half.
A longer-term goal would be to inch closer towards being among the world's top 12 sides in five years' time.
"It certainly won't happen overnight. It's about chipping away at it," she said.
For that to happen, more international games will be needed to earn ranking points, starting with Aitken's first assignment with the national team at December's Nations Cup.
Besides improving the national team, there is also work to be done on the "intangibles" - factors that ensure that success is passed down to subsequent generations.
She said: "My other goal is to increase the depth within the squad, (to ensure that) our succession planning and pathway is really clear, that we've got athletes coming through who are ready to take the step up from the U-21s to the world stage."
The veteran coach has her eye firmly on next year's Asian Championship, where Singapore are aiming to retain their title and qualify for the 2015 World Championship.
"Coming from a semi-professional environment (in New Zealand) to an amateur environment where the players are full-time students or workers, it will be quite a difference," said Aitken.
"What I need to do is make sure we are doing every day what we need to do to help us get there. That's what I can control."