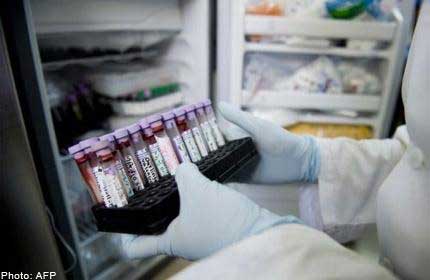 GEORGE TOWN - Sixteen-year-old leukaemia patient Benjamin Yeoh Chun How can now undergo a bone marrow transplant surgery after generous donors contributed RM200,000(S$79,000) for the procedure.
"I am thankful to all who have donated. I hope everything will work out fine.
"We will be going with my younger brother to Kuala Lumpur on Monday for the surgery to remove his bone marrow, which will then be given to me," he told reporters at the state MCA headquarters here recently.
Benjamin, who suffers from Philadelphia positive acute lymphoblastic leukaemia, a form of blood cancer, will be receiving his 14-year-old brother Benedict's matching bone marrow.
His operation will be carried out some 10 days after Benedict's.
On June 27, a press conference had been called to highlight Benjamin's plight as he needed the bone marrow transplant surgery urgently to prevent a relapse of the disease.
His mother, housewife Angela Chee, 45, had said that the surgery would need to be carried out this month but the family could not afford the cost.
Penang MCA Public Services and Complaints Bureau deputy chief Lim Thoon Deong said through the efforts of MCA, the press and the public, they had managed to raise RM128,498.34.
"There is more coming in and we have reached the RM200,000 target.
"I have spoken to Benjamin's doctor, Dr Alan Teh, this morning and he told me that the cost could go up to between RM400,000 and RM500,000 if there are complications.
"However, the collection is sufficient now and we want to see the operations done successfully."