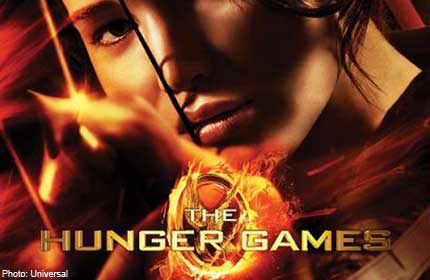 SAN DIEGO- Parents of morose teenagers be warned: the next big trend in films for young adults could make the mood at home even darker.
Vampires, werewolves and boy wizards are out; dystopia is in. Having seen the popularity of "The Hunger Games," movie studios are rolling out films that explore darker themes.
Summit Entertainment's "Divergent" and "Ender's Game" and Sony Pictures' "The Mortal Instruments: City of Bones"are all aimed at the lucrative audience of young adults.
The films were front and centre at the Comic-Con convention that wrapped up in San Diego on Sunday in the largest gathering of fans of science fiction, fantasy and video game genres.
Studios spend big money there to give that key demographic a glimpse of upcoming films, hoping to whip up the kind of fan hype that can be a powerful marketing tool for Hollywood.
The industry's move to dystopia comes after the "Harry Potter" and "Twilight" franchises both ended in 2011.
The five "Twilight" films, based on novels by Stephenie Meyer about a human girl entangled in a love triangle with a vampire and a werewolf, grossed more than $3 billion (S$3.8 billion) at the worldwide box office and set studios on the hunt for the next young adult franchise to capture the audience.
What they found was significantly darker in nature, exploring themes far beyond a teenage love story and wizardry.
Last year's Lions Gate film "The Hunger Games," the first film based on author Suzanne Collins' trilogy, features a post-apocalypse society in which a totalitarian government holds an annual "Hunger Games," a televised survival game where 24 children must fight to the death until only one remains.
Heroine Katniss, played by Oscar winner Jennifer Lawrence, who survives by playing her own rules, quickly becomes a threat to the government and a beacon of hope for an underground uprising.
The film, which made $691 million worldwide last year, will be followed by sequel "Catching Fire" in November, which puts Katniss back in the perilous game as society starts to find hope in opposing the regime.
That theme resonates with teens who feel powerless, who feel like adults but are still stuck in a restricted environment, said author Veronica Roth.
"To have a character who is claiming their identity in a world spinning wildly out of control and to use their means to overcome that world, I think that's a really powerful thing for a teenager to read about," Roth said.
DARKER AND DARKER
Roth is the author of "Divergent," the first of three novels, which takes dystopia further in a society divided into five factions which define how a person lives their life.
When protagonist Tris, portrayed by Shailene Woodley, is born into the selfless Abnegation tribe but realises she doesn't fit in, she challenges society's rules and finds a home with the Dauntless, a clan for the brave. The film is due for release in March 2014.
"'Harry Potter' had this wonderful innocent magic to it and it got darker as it went along ... maybe 'Hunger Games' takes that to the next step. We've taken it even further with'Divergent,'" the film's director Neil Burger said.
"Ender's Game," due out in November, is based on the sci-fi novels by Orson Scott Card and starring young actors Asa Butterfield, Hailee Steinfeld and Abigail Breslin. It explores a futuristic universe where gifted young children are taken to military school early in order to train for warfare against alien invasions on their planet.
Actor Harrison Ford, who plays Colonel Graff, a trainer of the youth in the film, said he saw parallels between's Card's story written three decades ago, and today's world where the military lures young soldiers to fight wars.
"The issues of the manipulation of young people for their values as soldiers for their special skills ... is something that was really complex and interesting to me," Ford said at the film's presentation at Comic-Con this week.
For all the darkness, young actresses might get some of their best roles in these films. Lawrence's portrayal of Katniss as a strong leader and protagonist has set off a new trend of bolder heroines.
Harald Zwart, the director of the upcoming adaptation of"The Mortal Instruments: City of Bones", the first of a six-part book series by Cassandra Clare, said he believed there was a need for stronger female leads in film.
"It's important for young girls to understand that there are qualities to girls other being just pretty and being told what to do," said Zwart, whose film stars Lily Collins.
"They can take control of their own lives and they need to find their own destiny, and I just wanted my daughter to see that inspiration," he added.