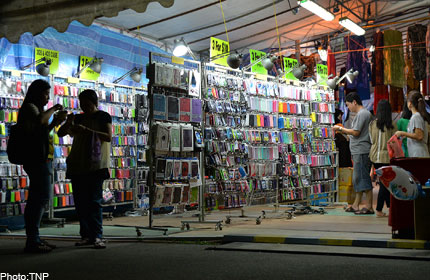 Even from a distance, a mish-mash of Hari Raya songs could be heard playing loudly on the CD players of the vendors at the Geylang Serai Ramadan Bazaar.
No one would be able to miss this annual street market - especially with all the glamorous and vibrant light displays.
As you got closer, the smell of food wafting throughout the market was unmistakable.
But sadly, the bazaar has since become a shadow of its old self.
Instead of having the vibe of a rich cultural melting pot bursting with liveliness, the bazaar has morphed into a cookie-cutter pasar malam (Malay for night market) with just a fraction of the Hari Raya spirit that patrons, like Madam Yati Sukansi, were used to.
Clutching a small plastic bag filled with just fried food, she looks bored as she stands idly by a staircase. She is waiting for her husband after making her rounds at the bazaar last Friday.
"I find myself spending less time each year I visit the bazaar," says the 57-year-old.
Geylang Serai has hosted the annual street market since the 1970s.
She points towards the dismal green and blue fairy lights hanging limp on the trees.
"You see the lights? I'm so old - I almost couldn't see," she says seriously.
"Ten years ago, it wasn't like this. The lights could make you go blind!" adds Madam Yati with a laugh.
The housewife, who has two children in their 20s, tells The New Paper on Sunday: "It used to be a family affair where we would take the bus from Tampines and spend at least four hours each time looking at clothes, and eating the food like dendeng (thinly sliced dried meat) and the different kuihs (cakes)."
She recalls the interaction with the stallholders.
"I loved the playful way in which they would lure us to the store. They would use a megaphone to bring in the customers. Now, it's so quiet," she says.
Besides the occasional voices of stallholders trying their best to attract customers, you can only hear mostly songs by Rihanna and Beyonce and popular dance hits being played at different stalls throughout the bazaar. Only a select few play Malay Hari Raya songs.
"Now, it has become more of a routine where I just make a quick round with my husband and buy some food before going back home," she adds. 
Even the younger generation feels this way.
Mr Dzulkarnaen Raduan, 31, was taking a stroll with his wife at the bazaar.
"The bazaar almost feels like the standard pasar malam - it's so dull compared to five years ago," he says.
He mourns the demolition of the Malay Village in 2011, as well as the new HDB blocks that were constructed about five years ago.
"These changes really affected the cultural feel of the bazaar," he laments.
When The New Paper on Sunday went to the bazaar over two nights, many patrons and stallholders cited the demolition of the Malay Village as the reason for the loss of the old Hari Raya atmosphere.
The 2.2ha development, opened in 1992 to showcase Malay traditional kampung living, was demolished in 2011 after its lease ended.
In its place, a five-storey, 10,000 sqm Wisma Geylang Serai will be built on a site about the size of two football fields between Geylang Serai Road and Engku Aman Road.
Planned for completion in 2017, it will house a community club, the Malay Heritage Gallery, the South East Community Development Council office and other arts and community facilities. A pedestrian walkway will be lined with shops and cafes.
But Mr Dzulkarnaen says: "The feeling is already lost - it will be hard to get it back again.
"The Malay village ensured that the bazaar was contained within one area, unlike today where everything is spread out.
"Now the bazaar is separated into various sections, so it's very different. And because there are fewer people, stallholders are less motivated to shout 'Lelong lelong' and come up with their various rhymes and songs." 
He vividly recalls stallholders competing against one another as they would come up with funny songs or rhymes to attract the customers.        
He adds: "Even florists will be competing with one another.
"There was a certain sense of camaraderie despite the rivalry."
A worker in his 60s, who wanted to be known as Mr Rahman, with AC Collections - a shop that sells Baju Kurung (traditional Malay costume) - clearly remembers this camaraderie he had with other stall owners. This is the first year in about 18 years where the shop at Joo Chiat Complex did not rent a stall at the bazaar.
He blames the high rental cost of more than $5,000 as well as the dwindling crowds.
"I feel that the bazaar has lost the symbol of Malay-ness. All the decorations and lightings don't bear any Islamic motifs. It just feels like any other bazaar," he says.
Back then, going back to the bazaar felt like going back to see family members they had not seen in a year.
"We would chit-chat, and would even help each other out and look out for thefts, especially at night . "But the fun part would be using a megaphone and trying to outsmart each other with our songs and rhymes," Mr Rahman adds. "It didn't feel like work at all."
Back then, stallholders from Malaysia and Indonesia sold their own unique wares as well, he says.
"There were stallholders from Penang, Batam, Terengganu and Johor and each of them would sell different things. For example, the people from Terengganu would sell silk while the ones from Penang would sell batik.
"These days, they are all selling the same things. I see the same sandals and phone covers at every corner of the bazaar," he adds.
He even recalls cultural performances by stars from across the Causeway. He specifically remembers a performance by popular singer Siti Nurhaliza. "Now, there is nothing to look forward to," he says.
Snacks stallholder, 27-year-old Tika Lia, feels the same. She is one of the few at her row who is actively shouting at customers in a bid to attract them.
She says that most of these vendors appear to be from Indonesia, who come here just for the month-long bazaar.
"They are the ones who are now able to afford the high rental cost whereas most of the Singaporean vendors can't," she says.
Ms Tika also laments the slow business. While she hopes that things will pick up closer to Hari Raya, she is not too optimistic.
"Previously, there was one place that people went to. Now that it's broken down so it's spread out over different streets, people hardly come here," she says in a worried tone.
Just a few stalls down from Ms Tika's stall is one that has a huge banner with property agents' faces on it.
Yes, they are selling flats at a bazaar.
The agents stand by the stall as they give out flyers to each passing visitor.
This is surprising even to Mr Mohamed Said.
Says the 56-year-old senior technician: "It is very strange to see flats being sold at a bazaar. It really doesn't match the festive mood. It's such a serious affair!"

Get The New Paper for more stories.