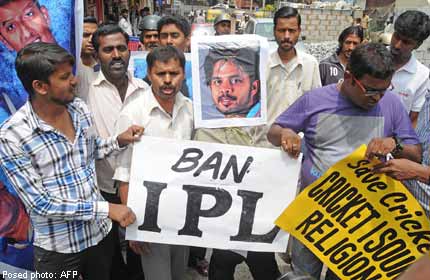 NEW DELHI - Indian police were expected on Monday to file charges against bookmakers, 13 years after a match-fixing scandal involving the late South African cricket captain Hansie Cronje, a police source said.
Police have prepared a "detailed charge sheet" expected to be presented before a chief metropolitan magistrate in New Delhi against five bookies, the source told AFP.
The action comes after Delhi police chief Neeraj Kumar told local media that he planned to file charges in the Cronje match-fixing case and an IPL spot-fixing scandal before the end of the month.
Kumar told the Hindustan Times newspaper on Saturday that he was working on tying up "some loose ends" before his retirement at the end of July, including both cases.
The Indian Premier League (IPL) was rocked by allegations of spot-fixing in May this year, with some 29 people arrested including three Indian players.
Cronje was banned from the game for life in October 2000, six months after Delhi police accused him of taking money from Indian bookie Sanjeev Chawla during his team's tour of India the same year.
Police say Cronje had accepted money from Chawla for underperforming during the one-day series in India and had also persuaded team-mates Herschelle Gibbs, Nicky Boje and Pieter Strydom to come on board.
Cronje was sacked as captain following a South African inquiry set up to investigate the bribery scandal, at which he admitted accepting US$10,000 to $15,000 (S$12,700 to $19,000) from Chawla.
On Monday police were likely to produce as evidence "hundreds of pages" of telephone call records between Cronje and Chawla, the source said.
Chawla is believed to be living in the UK and Indian police hope to seek his extradition once the charge sheet is placed before the court.
The charge sheet was unlikely to name Gibbs or Boje although they have been quizzed by Indian investigators in the past, the Indian Express newspaper said Monday.
Cronje died in June 2002 aged 32 when a light plane in which he was travelling crashed in bad weather.