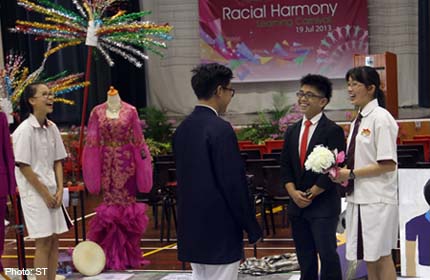 SINGAPORE - Students are being put in charge of a city and told to build a harmonious society consisting of different races - in a smartphone game being tested at Pioneer Secondary School.
The app, called One People, involves players making decisions on facilities that people need in a virtual city. These include types of housing and religious buildings.
For instance, "citizens" will be unhappy if the places of worship in an area are unbalanced - such as having too many churches and not enough mosques or temples.
The free game application is also available to the public and was developed by Republic Polytechnic students and racial advocacy group OnePeople.sg
It was praised by Education Minister Heng Swee Keat yesterday as he spoke ahead of Racial Harmony Day tomorrow. Since 1998, Racial Harmony Day has been commemorated by schools on July 21, to mark the anniversary of the 1964 racial riots here.
Mr Heng, the guest of honour at Pioneer Secondary's Racial Harmony Day event, said: "It is important for schools to design and plan daily learning and groupings in mixed teams.
"The shared experience of working with members from different classes during co-curricular activities or in a school camp is absolutely important.
"These experiences help build common interests and friendships among youth of different races."
He visited six booths prepared by students, including a puppetry skit enacting past racial riots and a board game depicting wedding rites of different races. He also viewed an exhibition on how students learnt about racial harmony through interviews with elderly residents.
"Racial harmony is all around us and, every day, we see people from different races but we don't realise how important it is," said Secondary 2 student Chew Tuan Loong, 13, who helped paint puppets for the booth.
At Anderson Primary, Senior Parliamentary Secretary for Education Sim Ann spoke of how the school uses art and photography and taps stories in lessons on character and citizenship education.
Senior Parliamentary Secretary for Education Hawazi Daipi and Senior Minister of State for Education Indranee Rajah also took part in the celebrations yesterday at East View Primary and CHIJ St Theresa's Convent respectively.
ateng@sph.com.sg

Get a copy of The Straits Times or go to straitstimes.com for more stories.