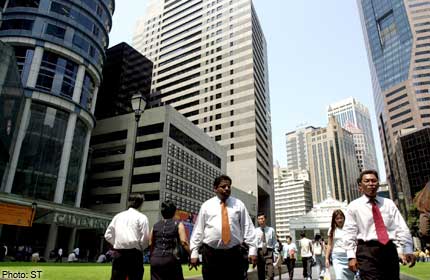 SINGAPORE - Employers here need to be more proactive in executing flexible work arrangements in their organisations to be able to see the benefits.
This is what human-resource experts whom My Paper spoke to said in response to the results of a recent survey conducted by the Land Transport Authority (LTA).
About half of the 100 organisations involved in the survey said they offer flexible-work options that allow their employees to travel during off-peak hours.
However, fewer than one in 10 employees said they were aware of such arrangements or allowed access to them. Minister of State for Transport Josephine Teo revealed the findings during the inaugural Travel Smart Day Seminar yesterday.
Employees should speak up and ask their managers what policies are in place, said Randstad's country director for Singapore, Mr Michael Smith.
"If they indicate a desire to work flexi-hours, then it provides a 'kick-off' to the conversation, and they can explore the options together," he said.
Mr Erman Tan, president of the Singapore Human Resources Institute, said that while some companies offer flexi-work arrangements, they might not actively promote it because of the resources required. He pointed out that such arrangements can be especially difficult for food-and-beverage companies.
Mr Josh Goh, assistant director of corporate services at The GMP Group, said: "The top management should actively walk the walk and practise flexi-work options, so that employees will see the benefits and feel more comfortable adjusting their work arrangements."
Ms Stella Tang, director of Robert Half, said: "Companies should embrace a culture where deliverables count more than the time employees spend at the office."
Mrs Teo said that the "biggest impediment" to commuters adjusting their travel patterns appears to be employer-related.
"There is clearly much scope for employers to do more to offer and promote flexi-work arrangements in ways that benefit both employers and employees," she said.
The survey, involving 1,500 commuters from 100 organisations and conducted from August to September last year, found that the top reason for not telecommuting - as listed by 17 per cent of the survey respondents - was that their employers do not or rarely allow it.
But about 80 per cent of employees surveyed said that they were willing to take up flexi-work arrangements if they were made available. Dr Evan Gwee, senior manager of sustainable-transport research at LTA, said that companies could try implementing some Travel Smart initiatives, such as starting with a group of employees to pilot flexi-work arrangements.

Get My Paper for more stories.