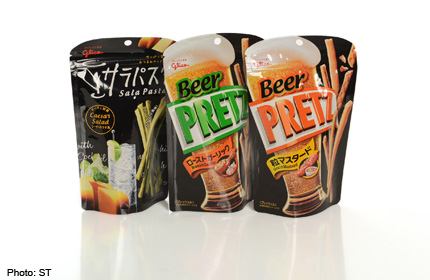 SINGAPORE - You crack open a can or bottle of beer, pour yourself a glass with foamy head. Ahhhh, bliss. But something is missing - munchies.
So along comes Glico with Beer Pretz ($3.20 for a 41g box), created for just these moments. That could explain why the flavours are so robust. They have to stand up to the beer.
Both are excellent. The Grain Mustard one has a sharp kick of what tastes more like wasabi. It will wake anybody falling asleep while nursing a beer. The Roast Garlic has a good caramel flavour, the sort of sweetness that comes from roasting the cloves long and slow.
As if these are not enough, there is another version - Sala Pasta Caesar Salad ($3.40 for a 40g pack). Unlike the Ta Pasta range, where the sticks resemble uncooked angel hair pasta, the Sala Pasta range is thicker and appear to be made of rolled up pasta sheets.
They have a light crispness that is distinctly different from regular Pretz sticks.
The Caesar Salad flavour is not terribly reminiscent of the salad, although it has a lovely texture with the thin, crisp layers. These are supposed to go with a gin and tonic but a beer works just as well.


Glico Pretz, Meidi-Ya Supermarket, Liang Court, B1-50, tel: 6339-1111, open: 10am to 10pm daily