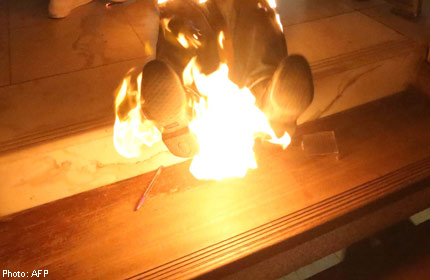 KUALA LUMPUR - A 50-year-old man set himself ablaze in front of his wife in their apartment after he allegedly found out she had been having a same-sex affair with her boss.
It is believed that the man, known only as Lim, could not accept the shocking news that his wife, whom he married 18 years ago, was in a relationship with another woman.
The couple has three children, aged between eight and 18.
According to initial reports from the police, the eldest son was at their home in Pandan Heights in Ampang with his parents and another sibling when the incident happened.
"The eldest son was surfing the internet in his room at 9.30pm when he heard his mother scream.
"He rushed out of the room and saw his father on fire and tried to put out the flames using water from the bathroom. Neighbours also helped him," said Ampang Jaya OCPD Asst Comm Amiruddin Jamaluddin in a message to reporters.
ACP Amiruddin said the son denied claims that his mother had tried to kill his father and suspected that he was trying to kill himself instead.
Police officers noted there were burn marks and soot in the front bathroom while the toilet was broken.
They did not find any signs of a struggle or a suicide note.
The man is currently in the critical care unit in the Ampang Hospital while his wife, who also suffered burns to her legs, was in the emergency ward.
According to relatives, the man wanted to kill his entire family but could not bring himself to do so.
A neighbour said she heard screams and went to investigate.
The woman, who declined to be identified, was startled to find a man on fire and saw her neighbour's son screaming.
She said she often heard arguments coming from the opposite unit but did not know what the arguments were about.
She also said that her neighbour usually kept to themselves and did not mix much with the other neighbours.