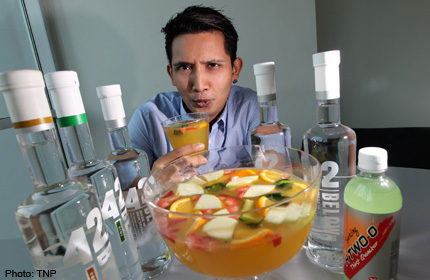 SINGAPORE - It's celebration time for The New Paper and you can start the countdown to our big birthday bash by making your very own TNP Party Punch at home.
Bartender Shah Dillon, 23, was asked to create a drink recipe which readers can replicate and enjoy at home.
This is a special concoction created to commemorate The New Paper turning 25 this Friday.
We will be celebrating in style with the TNP Mardi Gras at Robertson Walk, and you can join in too.
A limited number of tickets are still available at $25 per pair. Each pair of tickets comes with four vodka mixers and two mini beer cans, plus a host of goodies.
Says Mr Dillon: "I wanted to make a drink which embodies TNP being a newspaper with something for everyone.
"I noticed that whenever someone has a copy of TNP, friends and family also want to read it. So I felt that a bowl of party punch is suitable as it conveys (the idea of) TNP being a paper which connects people and brings them together."
With Sparkling H-Two-O and 42 Below vodka as official drink sponsors for TNP Mardi Gras, Mr Dillion's unique concoction features apple-flavoured Sparkling H-Two-O and 42 Below vodka in manuka honey flavour.
Ms Ling Chien Ning, brand manager for 42 Below vodka at Bacardi-Martini Singapore, says: "TNP Party Punch is like TNP itself - it is punchy and it delivers.
"When chilled, the party punch tastes refreshing. Even at room temperature, it's very palatable with robust flavours."
The orange-coloured party punch is a great blend of sweet and tangy with fragrant notes of apple and aromatics, plus a little kick from the manuka honey vodka.
Yeo's marketing vice-president May Ngiam says: "Sparkling H-Two-O in apple flavour has a pleasant lingering aftertaste and goes well with vodka as a mixer.
"It is a thirst-quencher well-suited for light leisure activities like dancing as it helps party-goers replenish the electrolytes lost from perspiring and gives them the energy to go on dancing."
Lightly carbonated, Sparkling H-Two-O comes in tasty flavours of original, apple, blackcurrant and pomegranate.
42 Below has other flavours such as original, feijoa, passion fruit and kiwi fruit.
With the range of flavours available, why not try mixing and matching to shake up your own cocktail to suit your own palate?
If you fancy that idea, Mr Dillon has one key tip for aspiring home bartenders: Always add the alcohol last.
He says: "Start with the other ingredients first - the mixers, juice and syrup. Add the alcohol only after you have the balance and taste that you want."


FYI
What: TNP Mardi Gras @ The Courtyard
 
When: July 26, 5pm
Where: Robertson Walk
Tickets: $25 per pair
How to buy:1) Log on to pbp.sph.com.sg/tnp25 or 2) Visit Mosaic Dance at 520 North Bridge Road Level 5, Wisma Alsagoff, Singapore 188742 (opposite ToastBox at Bugis Junction) Weekdays: 6pm to 10pm Weekends: noon to 6pm
Nearest MRT station: Bugis
Buses (on North Bridge Road): 7, 32, 51, 63, 80, 145, 175, 197
Buses (on Victoria Street): 2, 12, 33, 130, 133


All vouchers issued with the tickets are valid for use from July 27 until the indicated expiry date.
Recipe for TNP Party Punch

You will need
A large bowl 
A measuring cup 
A stirrer

Ingredients
200ml freshly squeezed lemon juice 
200ml freshly squeezed orange juice 
200ml Sparkling H-Two-O (apple flavour) 
200ml sugar syrup (made with 190g fine sugar and 200ml water) 
600ml 42 Below vodka (manuka honey flavour)

Optional garnish
Slice the following:
1 green apple 
1 orange 
5 strawberries 
1 lemon 
1 cucumber

Method
1) In a large bowl, add the fresh orange juice and lemon juice.

2) Add the apple-flavoured Sparkling H-Two-O. 

3) Taste the mixture as you are adding the syrup. 

4) Adjust the amount of syrup you add to suit your preferred level of sweetness. 

5) Finally, pour in the 42 Below vodka. 

6) Optional: Garnish with the sliced fruits.

7) Stir and best served when chilled.