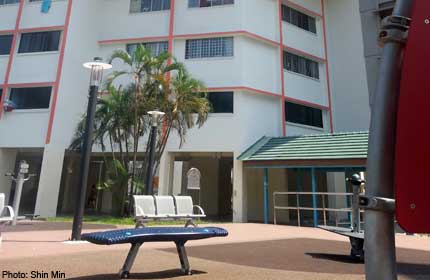 SINGAPORE - An eight-year-old boy was found dead at the foot of an HDB block in Tampines early on Sunday, leaving his grief-stricken family and a string of unanswered questions.
Lim Jia En, a pupil at Junyuan Primary, arrived home with his parents at Block 934, Tampines Street 91, on Saturday at about 11pm, Chinese daily Lianhe Wanbao reported on Sunday.
An hour later, neighbours heard two loud thuds.
Jia En was then discovered motionless at the fitness corner directly below his 14th-floor flat.
He had his backpack with him, as well as a photo of his family. A ball of yellow yarn was recovered by the police from a parapet just below his flat.
Neighbours told The Straits Times his family apparently did not know what had happened until the police went knocking at around 2am. Other details about Jia En's death are sketchy.
His family was tight-lipped when approached by reporters on Sunday, with his father insisting that it was "a normal tragedy".
Said a neighbour, who asked to be identified only as Mrs Ng: "My sister-in-law heard two loud 'boom, boom' noises. She thought something fell off the ledge. But she looked out of the window and saw nothing. It was too dark."
Housewife Tan Joke Lan, 64, said the police took photographs of the ball of yarn, which was on a parapet directly outside her flat.
"The officers asked me if I heard any shouting. But I heard nothing," she said in Mandarin.
Neighbours said Jia En was the middle of three children. He had an older sister who is about 12 years old and a baby brother. The family has been living in the flat for more than eight years.
They said the boy and his siblings were hardly at home because they stayed with their grandparents in the day while their parents worked. But those who had met the boy described him as lively and polite.
A Singapore Civil Defence Force spokesman said a member of the public called them at 12.16am on Sunday. Paramedics arrived at the scene shortly after and pronounced the boy dead.
The police are investigating the case as unnatural death.

Get a copy of The Straits Times or go to straitstimes.com for more stories.