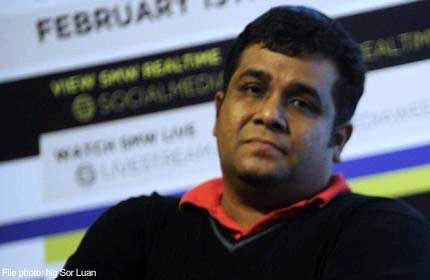 BLOGGER Ravi Philemon said on Thursday that he repeated an allegation doubting the public availability of the Government's stockpile of N95 masks during the haze, because the Government's assurances "did not tally with the situation on the ground".
In a statement to the media, Mr Philemon traced his version of events that led him to re-post on the wee hours of June 22 a friend's false allegation that the Government's nine million masks were not meant for the public.
He noted that two days prior, the media reported the Health Ministry as saying there were sufficient masks and pharmacies would have fresh stocks by that evening. But the next day, on June 21, there were reports that some pharmacies did not have stocks.
Mr Philemon said these were facts, and "readers can decide for themselves if I was being malicious or irresponsible". He said he posted the allegation "with the intention of not asserting, but getting more information on that topic".
"As ordinary citizens like me are not in a position to verify what is truth and what is not, it is not irresponsible of me to highlight such sentiments so that the Government can appropriately clarify them," he said.
Meanwhile the original source of the allegation identified himself as Victor Chen Guan Rong on Facebook, who said the information was obtained by his father from pharmacies and clinics on June 21.
The posting began as such: "Yes the 9 million masks are coming into Singapore only on Monday (June 24). But none will be for the public, the entire batch will be under exclusive control by the G (Government) and all distributions (sic) of the masks will be under the tightest of scrutiny".
It went on to say this was acknowledged by all medical supplies distributors and no retailers would have stock circulation because of "tight control implemented".
Their statements come a day after Minister of Communications and Information Yaacob Ibrahim pointed out, in a Facebook statement, that prior to Mr Philemon's posting of the allegation, the Government had already said one million masks would be distributed free to low-income households, and that Mr Philemon "had no basis for his assertion".
Dr Yaacob on Monday cited Mr Philemon's case as one of several examples of rumour-mongering during the haze which caused unnecessary public anxiety.