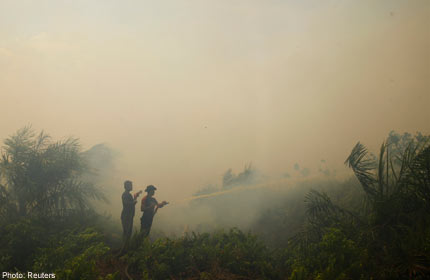 SINGAPORE - Greenpeace International is mapping hot spots and matching them to companies whose plantations have contributed to the fires, the group said on Thursday.
So far, it has identified more than 1,100 hot spots on islands in the Riau archipelago, the biggest source of the haze, said Mr Kiki Taufik, Greenpeace Indonesia's forest campaign manager.
About half of the hot spots were in areas that were supposed to have been protected by Indonesia's forest moratorium, put in place in 2010 to stop further deforestation, he said.
"About 600 of the hot spots were in the areas protected by the moratorium, while another 577 were outside of them," he told The Straits Times on day.
The group is working to map the hot spots and link them to the companies given concessions to build oil palm plantations. "But it is hard because the official concessions map does not seem to be complete, so we will need some time to analyse the data," he said.
Prime Minister Lee Hsien Loong said in a press conference on Thursday that the Government will take action against any Singapore firms found to have been responsible for the fires. He said the Government is studying what action it can take under the law.
Meanwhile, agricultural companies continued to state they did not have anything to do with the fires. One firm, Cargill, sent The Straits Times a map pinpointing its plantations as well as the hot spots identified by the National Environment Agency.
Cargill's map showed that its plantations, PT Hindoli and PT Harapan Sawit Lestari, which are part of a joint venture between Cargill and Temasek Holdings, were not in the hot spots.
Other Singapore-listed palm oil firms also said there were no fires on their plantations.
First Resources said that it had not seen fires on its plantations, while Wilmar said it was "not developing any new plantation in Sumatra, and therefore not contributing to the haze".
aaronl@sph.com.sg