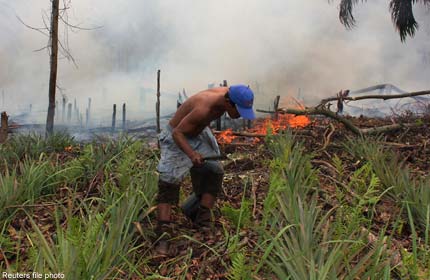 RIAU - Given their age, they are unlikely to have heard the classic James Taylor hit, Fire and Rain. But they are living some of the lyrics, albeit in a painful way.
In Bangko, about 200km north of Pekanbaru, we chanced upon three teenagers taking turns dousing flames on a plantation with a hose pumping water from a river, using a portable generator.
They are not trained firefighters but they toiled ceaselessly under the blazing sun. They volunteered, they told us.
For eight hours a day seven days a week, they have, in a twist to the lyrics, "seen fire, they've seen pain".
All for the price of what Singapore smokers would pay for a pack of cigarettes: Rp100,000 (S$13) for a day's work.
Sixteen-year-old Johanis, who goes by one name, said in Bahasa Indonesia: "The job isn't dangerous... we are just doing our part to kill the fires near our village. One of our neighbours working with a big company recruited us and we said yes."
He does not know which company hired them, he added.
Inaccessible
His friend, Sugianto, said he volunteered for the job because "it's not easy for the fire engines to come into this remote area when there aren't proper roads".
"We've been experiencing the haze for nearly a month now and we are not alone feeling helpless being blanketed by the smoke," he said.
"There are many villagers chipping in to help. We live in this area and for the past week, we have been helping. Why shouldn't we take care of it?"