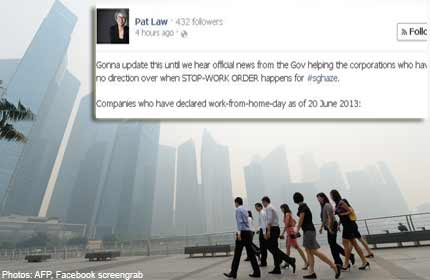 SINGAPORE - As the haze blanket thickens in Singapore, an increasing number of locally-based companies are beginning to take preventive measures aimed at safeguarding the health of their employees.
Since late last week, the city-state has been plagued by a haze caused by forest fires on Indonesia's Sumatra island.
While PSI levels remained in the unhealthy range for most of the week, air quality worsened drastically to a high of PSI 321 on Wednesday night, and then peaked at PSI 371 at 1pm on Thursday.
PSI levels above 300 are considered hazardous by the National Environment Agency (NEA).
Goodstuph, a local marketing and creative agency, was one of the first few companies which announced a work-from-home-day on June 20.
On Thursday, the agency posted a note on its official Facebook page to say that the company would be extending work-from-home-day till Friday if necessary.
Pat Law, owner and founder of Goodstuph, also posted a note on her own page to urge other companies to allow employees to work from home.
The posting has since been updated with a list of more than 80 other firms which have stopped or changed operations as a result of the haze.
Companies which have allowed staff to work from home from Thursday include Singapore Tourism Board, Mindshare Social, Singapore Korean International School, Discovery Networks Asia-Pacific, Thomson Reuters, Lenovo Singapore and more.
Operations suspended include delivery services by McDonald's Singapore, Popeye's, Pizza Hut, KFC and Pasta Mania.
Here is the full list Ms Law has posted so far:
1. Kinetic Singapore
2. Kilo
3. Ben Qwek & crew
4. Obllique
5. GOODSTUPH
6. XM Asia Pacific (source: Celeste Ang)
7. SingTel Digital Marketing team (source: Miguel Bernas)
8. Dimension Data Asia Pacific (source: Tannia Goh)
9. McDonald's Singapore Delivery (source: Ng Wai Mun)
10. Peek! (source: Chia Aik Beng)
11. Cohn & Wolfe XPR (source: Wong Renhao)
12. VML Qais (source: Nick Pan)
13. CBS Interactive (source: Aloysius Low)
14. Pizza Hut Delivery (source: Alex Ortega)
15. KFC Delivery (source: Alex Ortega)
16. Good Beer Company (source: Andrew Loh)
17. Nike Singapore  (source: Andrea Goh)
18. WKND (source: Joei Huang)
19. Meese Studios (source: Irvin Tan)
20. Singapore Tourism Board (THE OPTION TO WORK FROM HOME) (source: Ian Liu)
21. Leo Burnett Singapore (source: Eugene Ling)
22. Brew Creative (source: Vicki Lew)
23. Acechamp Business Consultants Pte. Ltd. (source: Simon Sim)
24. My Bike Shop (source: Bona Lee)
25. UberGamers Pte Ltd (source: Serene M Neo)
26. Horizon Music Entertainment (source: Victor Kwek)
27. OP Entertainment (source: Victor Kwek)
28. Double Confirm Productions (source: Hossan Leong)
29. Notch Studio Pte Ltd (source: Liang Shing Goh)
30. Mindshare Social (OPTION TO WORK FROM HOME) (source: Yasser Ismail)
31. Interpage Pte Ltd (source: Azfar Hashim)
32. RecruitPlus (source: Vince Ong)
33. Publicitas Publishing Pte Ltd (source: Betty Liswanty)
34. Robert Walters Singapore Pte Ltd (source: Zanna Syco)
35. Acceltus Pte Ltd (source: Kit Kai)
36. Blue Coat Singapore (source: Melvin Lim)
37. Carlsche Media (source: Carlsson Chee)
38. Popeyes Singapore Delivery (source: Walter Wu Weiren)
39. WanderWonder (source: Daniel Koh)
40. Five & Dime (source: Frank Yu)
41. Avantgarde Minds (source: Muhammad Arif Dollah)
42. okb (source: Penny Ong)
43. Let There Be Light Photography (source: Anthony Levi Kho)
44. Intuit (source: Ben Ball)
45. Q-plus design (source: Nicholas Gabriel)
46. Prestige Financial Group (source: Nicholas Gabriel)
47. Peter Low LLC (source: Remy Choo)
48. The Tentage Bar & Cafe (source: Yogesh Mehta)
49. The Merry Men Group outlets (The Merry Men Kitchen + Bar at Robertson Quay and The Mad Men Attic Bar at Boat Quay) (source: Shawn Heng)
50. Pastamania (Singapore) Delivery (source: Janice Low)
51. Newton Circus (source: Ciaran Lyons)
52. Roses Only Singapore (source: Labelle Luo)
53. We Are Social (source: Farah Sidek)
54. Dentsu Möbius (source: Fredrik Englund)
55. Academy of Medicine, Singapore (source: Liszt Aquino Jimenez)
56. Singapore Korean International School (STUDENTS AND TEACHERS ONLY) (source: Jamie Koh)
57. Scootz (source: Joanna Peck)
58. Bless, Inc. Asia (source: Daryl Teo)
59. Metoxide Singapore Pte Ltd (source: Daniel Goh)
60. Amrich Distribution (source: Alex Wong)
61. Discovery Networks Asia-Pacific (OPTION TO WORK FROM HOME) (source: Ching Yee Wong)
62. MasterCard (source: Allison Lim)
63. Kroll Advisory Solutions (source: Vanessa Frida)
64. Special Olympics Asia Pacific (source: Karyn Tan)
65. SPT-Performance.com (source: Aston Ng)
66. theAsianparent.com (Tickled Media Pte Ltd) (OPTION TO WORK FROM HOME) (source: Roshni Mahtani)
67. Pixel Onion Pte Ltd (source: Theresia Anita Candra)
68. Muse b'Art, Muse Body Art Pte Ltd (source: Chris Ruth)
69. Leadz Graphic & Production Pte Ltd (source: Sue Nonie)
70. PullUpStand.com (source: Denny Dzulkarnaen)
71. Mulan Gallery (source: Yi Mei Tan Woolf)
72. Cyan Communications  (source: Cheryl Guzman-Ng)
73. Reality Gaming Concepts (source: Andy Chong)
74. The Cajun Kings (source: Andrei Soen)
75. Penguin shipyard international (source: Jason Guo)
76. LiveStudios Interactive Photography (source: Lorraine Chee)
77. Thomson Reuters (OPTION TO WORK FROM HOME IF APPROVED BY MANAGER) (source: Faizal Pahmee)
78. Lenovo Singapore (OPTION TO LEAVE THIS AFTERNOON AND WORK FROM HOME) (source: Serene Siew)
79. Dell (source: Nicholas Yong)
80. Klapston's fabrika and Lucas Deli (UNTIL PSI DROPS TO 200 WILL OPERATIONS RESUME) (source: Amanda Leung)
81. Make Studios (source: Kun)
82. Tinkerbox Studios (source: Jaryl Sim)
83. SGAG (source: SGAG)
84. Grayling (source: James Keng Lim)
85. Orange Business Services (source: Jocelyn Englund)
86. Wunderfauks (OPTION TO WORK FROM HOME) (source: Edwin Chan)