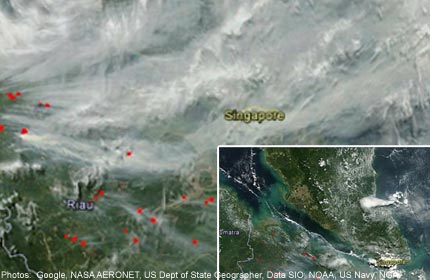 The satellite images above shows the dramatic difference between the air last Friday compared to today. The June 21 image was taken by Nasa's Terra satellite at 11.20am, when the PSI in Singapore was at its highest. Today's image was taken at 11.25am.
Foreign Minister K. Shanmugam laid out three issues Singapore will focus on regarding the haze, ahead of his trip to an ASEAN ministerial meeting in Brunei this weekend.
The first and most important step in dealing with the haze is to put out the fires in Indonesia and make sure no new ones start, he told the BBC in an interview aired Friday.
"We have had a few clear days. But areas in Malaysia, areas in Indonesia, are still in a state of emergency. And when the winds shift, we could easily be engulfed again," he said.
Indonesian president Susilo Bambang Yudhoyono's "very statesman-like" apology earlier this week would be "very helpful" in that regard, the minister added. Dr Yudhoyono's statement sent a clear message to his own officials and gave indications of substantially increased resources to deal with the fires, said Mr Shanmugam, adding that both Singapore and Malaysia have also offered their assistance.
He then laid out two other issues that Singapore will focus on regarding the haze. One is to take a regional look at the haze to prevent the problem from recurring.
"It is not just an Indonesia issue, a Singapore issue or a Malaysia issue. It affects the region and indeed, the world in terms of CO2 emissions," he said.
He added that he will have a chat with his Indonesian and Malaysian counterparts, and also discuss in ASEAN what appropriate forum the issue can be brought up in and mechanisms that can be put in place to address the haze and natural disasters like floods.
Finally, he pledged that the Government is "very firm in looking at what we can do" if there is evidence that companies based out of Singapore or with Singapore links have been involved in the fires causing the haze.
Singapore conveyed a diplomatic note on Monday to Indonesia seeking clarifications on companies involved, after contradictory positions from Indonesian officials.
Singapore is also asking for evidence of the firms involved. Mr Shanmugam said that while satellite photographs can indicate where the hotspots are and where the fires are starting, Singapore needs two types of evidence: information on who owns the land, which only the Indonesian authorities will know, and evidence on the ground based on eye-witness accounts.
"We need these two, and with that, I think we can do something," he said.
The haze at PSI: 401


Click on thumbnail to view (Photos: ST, TNP, NASA, AsiaOne reader)
Haze at dangerous levels on June 20


Click on thumbnail to view (Photos: ST, TNP, The Star, AFP, Reuters)