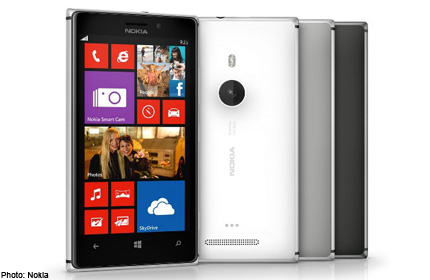 The Lumia 925 does not boast a 41MP camera like that of the Lumia 1020, which Nokia announced last week.
But it is still an improvement on the previous flagship model, the Lumia 920.
The phone body is encased in aluminium rather than plastic. This adds both class and sturdiness to the handset, much like what HTC did with the HTC One.
The 4.5-inch gorilla-glass display is clear and sharp, and responds well to touch. A dual-core Snapdragon CPU delivers much-needed zippiness.
The 925 comes with a PureView 8.7MP camera, with optical image stabilisation and Carl Zeiss optics. And with the Nokia Smart Camera function, up to 10 shots can be taken at once.
Best of all, Here (formerly known as Drive) is back in its original form, which means free downloadable maps from all over the planet and excellent offline GPS navigation.
I had kind of written off Nokia after it placed regional map restrictions on Here in recent, cheaper Lumia models.
It just did not make sense that Nokia would neuter what was probably its most powerful and useful phone feature.
Perhaps there was some strange marketing strategy behind that move.
However, for a company that has fallen steeply and is still on the ropes, one would have thought it would want to win back customers instead of alienating them.
Hopefully, Nokia will realise its mistake and restore a full-function Here to its other Lumia models.
How much: $799; available in white, grey or black

Get My Paper for more stories.