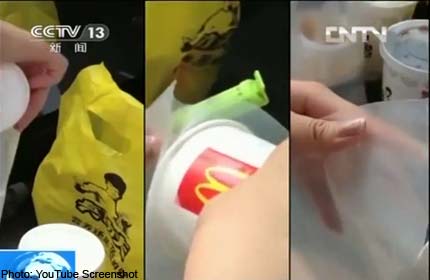 BEIJING - Sometimes you are better off drinking from a fast-food chain's toilet than buying its soft drinks, said the Chinese media, after the ice cubes of two fast-food outlets in Beijing were found to be that dirty.
China's flagship Central China Television (CCTV) recently did a check on a Kentucky Fried Chicken branch and a Kung Fu restaurant, and was shocked to find that the respective bacteria counts of their ice cubes were 13 and six times higher than that generally found in toilet water.
A third check on a McDonald's outlet in the same locale showed that its ice cubes were cleaner than toilet water but still did not meet national hygiene standards, reported the South China Morning Post.
Kung Fu is a Chinese fast-food chain with more than 300 outlets across the country.
The three companies apologised for the lapses following the CCTV report and promised to clean and disinfect their ice-cube makers.
Despite the revelations, the Beijing Times found customers visiting the three branches located in the Chongwenmen district to be largely unconcerned.
But the findings triggered outrage over the Internet, with more than 10,000 people commenting on the issue, reported the Post. One netizen urged the health authorities to also conduct checks on other fast-food chains.
The US-based Yum Brands, which owns KFC, said it would conduct water tests in its other chains in China, including Pizza Hut, and release the results.
Contaminated ice cubes are not only found in China. A test of 10 restaurant chains in Britain in May revealed that six of them would do better to offer the water in their toilets.

Go to The Straits Times Asia Report for more stories.