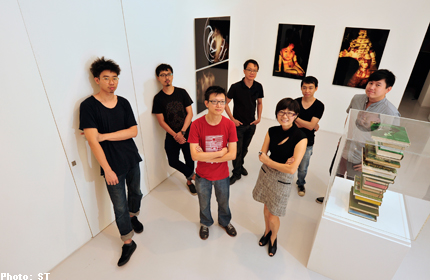 SINGAPORE - First, it was foreign galleries showing works of Singapore artists internationally. Then, overseas galleries with outposts here began exhibiting Singapore artists.
Now, renowned Chinese art gallery ShanghArt, which opened in Gillman Barracks last year, is staging a group exhibition dedicated to artists based in Singapore.
The group of eight includes emerging artists such as Henry Lee and Valence Sim, as well as established practitioners Chen Sai Hua Kuan and Robert Zhao Renhui.
More than 50 works of art will be on display and they span a range of medium from video and photography to painting and sculpture. The works are for sale and priced between $500 and $19,000.
For ShanghArt, which mostly represents talents from China including acclaimed artists Geng Jianyi and Yang Fudong, its latest exhibition here is a gesture of an outstretched hand.
The Singapore gallery's director Xue Liqing, who is in her 30s, says: "As a newcomer to Singapore and Gillman Barracks, we are curious about the local arts scene. We want to make friends, talk about ideas, about art, and inspire each other."
This desire led her to attempt to build bridges with the gallery's latest show, Going Where?
Ms Xue, who holds a doctoral degree in cultural studies from National University of Singapore's Chinese department, joined the gallery here in February. She is the curator of the show and to put together the exhibition, she spent nearly two months researching and speaking to contemporary artists based here.
She says: "As I spoke to the artists, I found many of them interested in social issues and it shows in their art. There is a focus on identity, society and the future. But they are also confused and sometimes disappointed at how things are changing, the political situation, the arts scene, and attitudes towards language and culture."
This sense of uncertainty and curiosity about the future, which surfaced repeatedly in the conversations, became the theme of the exhibition. It also inspired the Singlish title, Going Where?. The ungrammatical title was deliberately chosen, says Ms Xue, to capture the local flavour of the exhibition and connect with the Singapore audience.
Works in the show explore notions of direction and purpose and range from deeply personal questions on the career path of an artist to weightier contemplation on where society is headed.
Photographs by well-known performing arts photographer Tan Ngiap Heng, for example, point to a new direction in his artistic practice. In his Portraits As History series, he turns the bodies of his subjects into canvases for projections of old family photographs.
In another piece, a video work by Chen draws the viewer in to ponder how quickly the urban landscape is changing, as well as the destructive potential of nature. The video, which plays in the gallery's black box, shows a rope ricocheting through an abandoned warehouse in Ireland, slicing up the cavernous space.
Artist Wong Lip Chin, 26, who has two paintings in the exhibition, says: "I used to think Gillman Barracks is another Hong Kong where people just trade art, but ShanghArt's interest to showcase local artists allows our voices to be heard."
Artist Zhao, 30, who was involved in a photography group show organised by the gallery in Shanghai last year, says: "It is nice to be able to have a relationship with an overseas gallery back home."
Ms Xue says the Singapore-centric exhibition is a special project and the gallery's focus remains on Chinese artists. "But we will not exclude the possibility of working on other shows with local artists if there is an opportunity."
lijie@sph.com.sg
View it
GOING WHERE?
Where: ShanghArt Singapore, Gillman Barracks, 02-22, 9 Lock Road,
When: Till Sept 30, 11am to 7pm (Tue to Sun), closed on Mondays
Admission: Free
Get a copy of The Straits Times or go to straitstimes.com for more stories.