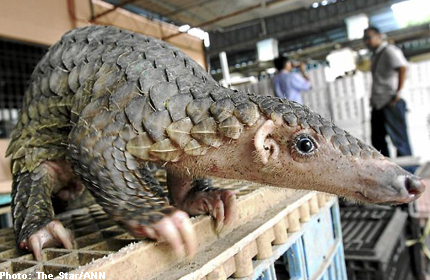 PETALING JAYA - Pangolins are the most common mammals seized during raids on illicit wildlife trafficking, with demand for the animal fuelled predominantly by China and Vietnam.
Two of the eight pangolin species are now listed as endangered in the International Union for Conservation of Nature Red List.
Pangolins are desired for their meat while their scales are prized by traditional Chinese medicine practitioners.
The Department of Wild­life and National Parks (Perhilitan) has foiled 50 cases of attempted smuggling since 2010 and seized nearly 1,500 pangolins.
Its enforcement director Abdul Kadir Abu Hashim said he expected demand for pangolins, also known as anteaters or tenggiling in Bahasa Malaysia, to increase with the coming of the winter season in China.
"According to our records, most pangolins are destined for neighbouring countries, including Thai­land and Vietnam.
"The bulk of them end up in China.
"Malaysia is a transit point as we have found some pangolins here that were brought in from Indonesia," he told The Star.
In July alone, Perhilitan officers have already stumbled across three cases of trafficking, with one in Bukit Kayu Hitam, Kedah, where 30 pangolins were found in a car boot.
"Most of the attempts to smuggle the pangolins out are through motor vehicles.
"Malaysia's network of roads is comprehensive, in addition to the long coastline," Abdul Kadir said, adding that it was impossible to pinpoint where the smugglers would land.
Seized pangolins will be tagged with a microchip before being released back into the wild once they are confirmed to be healthy.
Abdul Kadir stressed that Perhilitan's enforcement activities were carried out with the cooperation of agencies such as the police and the Malaysia Maritime Enforce­ment Agency.
While the department has an intelligence gathering unit as well as a wildlife crime unit, he said tip-offs from the public were also of immense help.
In a recent landmark conference in Singapore, global experts noted that pangolins were under threat more than ever, with more than 200,000 of them seized between 2000 and 2012, but this is estimated to be just a fraction of those illegally traded.