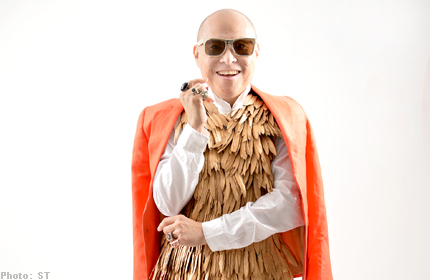 SINGAPORE - Friday night, you'll have the perfect excuse to go crazy with your #OOTD (outfit of the day) without committing social media suicide.
The New Paper's 25th anniversary Mardi Gras party at The Courtyard at Robertson Walk provides just the occasion for you to unleash your inner carnival reveller and tog out in all manner of glitter, sequins, feathers, body paint and attention-grabbing accessories.
Think young, wild and free - with a generous dash of the skimpy, outrageous and extravagant - and you'll be dressed for success.
On what to wear for this themed shindig, renowned local fashion designer Frederick Lee - who has built his 20-year reputation around creating couture gowns and dazzling stage costumes - advised: "It's a party for everyone.
"People need to leave their uptight and conservative attitudes at the door and prepare to let their hair down because Mardi Gras is all about partying."
Show some skin
According to Lee, 43, it's also about "going over the top with accessories".
And in our humid weather, party-goers should "not be shy" to "show some skin".
Though our fiesta unfolds after office hours and before the weekend sets in, that doesn't mean you can't make your corporate wardrobe work for you.
Said Lee: "Just remove the blazer and get comfy in your bright and loud coloured tank top - not checkered ones either. If it's sequined or has feathers, all the better.
"After that, just pile on the accessories and go crazy with headgear like hats and dramatic headbands, probably a two-metre-long feather boa. Just remember: the more the merrier... chains, glitter, diamonds and boots."
Local fashion stylist Dolphin Yeo, 37, also dished her styling tips.
She said: "Women should wear a bikini underneath because Mardi Gras parties tend to be crazy, so women should keep their (breasts) protected."
Yeo, whose work has been featured in many fashion magazines, added: "(As for footwear), they can go with heels but instead of a plain black pair, try brightly-coloured wedges. Or if sneakers are in play, they can get creative and add some bling.
"Don't turn up in anything formal, because you'll just torture yourself and stick out like a sore thumb."
But if blouses are on the cards for the day, they would do just fine.
Yeo said: "You can just tie a knot and turn the blouse into a crop top. If you've stuck to a pencil skirt for work that day, the addition of a bright belt will do.
"If you have more time, add chunky jewellery, and if you want to go a little bit further, you can always add temporary coloured hair extensions for a more playful, yet extravagant look."
One thing both fashion experts agreed on was the big sartorial no-no for the party - nothing long-sleeved, and definitely no sweaters.
Pulling off a Mardi Gras transformation is also much simpler for the men.
"Topless," Lee said. "Top it off with accessories like a pair of wings or chains."
Yeo added: "If the corporate man is conscious, then he can just roll up his sleeves and unbutton his shirt to show a bit of flesh."
Lee said: "Guys can change into boardshorts or denim shorts.
"Just be creative...if you have it, why not flaunt it?"
Get The New Paper for more stories.