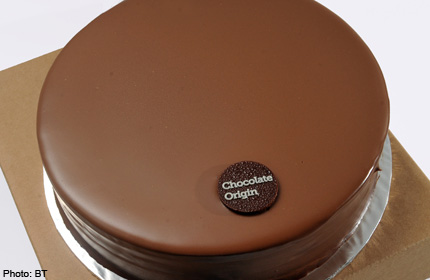 SINGAPORE - While exploring Changi Village recently, I come upon something I never thought I'd see in that laid-back, chill-out neighbourhood full of casual eating places: a shop that sells a serious chocolate cake.
Chocolate Origin, which also has a branch at 313@Somerset, sells two versions, original and a dark version.
No prizes for guessing which one I pick.
The prices are quite startling. Prices of the Dark version, which I gravitate towards, start at $36 for a 15cm cake good for six and go up to $216 for a 30cm one that supposedly feeds 36.
I am sceptical but buy the smallest one to try.
It turns out to be much better than I expect, and even now, I can taste the layers of velvety cake sandwiched with dark chocolate ganache and covered with chocolate.
This is one step up from the offerings at other bakeries which offer chocolate fudge cake concoctions.
There are a couple of gripes, however.
I am shown two cakes before they produce one without cracks on the coating, so please do check before buying.
I still cannot get over the price - $36 for such a tiny cake. The Original version costs $29 for a 15cm cake, with prices going up to $174 for a 30cm cake.
Admittedly, a small slice goes a long way, so this chocolate cake will have to be an occasional treat.


Chocolate Origin 

Block 4 Changi Village Road, 01-2084
Tel: 6542-2939
Open: noon to 9pm (weekdays), 10.30am to 9pm (weekends)