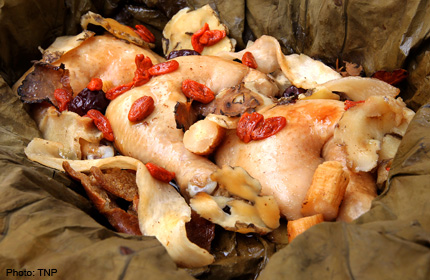 SINGAPORE - There is something deliciously fun about unwrapping parcels, especially those containing food.
This week's recipe is ginseng wine chicken wrapped in lotus leaf. It is easy to do and makes for a healthy and nutritious meal.
If you don't like the bitterness of ginseng slices, ginseng wine, with its mellow sweetness, is a more palatable option.
I'm a fan of the aromatic fragrance that the lotus leaf imparts. You could make the dish without lotus leaves, but you'd miss out on some fantastic flavours.
Dried lotus leaves can be purchased from wet market provision shops.
When cooking, place a sheet of baking paper between the aluminium foil and lotus leaf.
Avoid stacking the chicken pieces to prevent uneven cooking. Trim off any excess fat, but cook the chicken with the skin on as it helps seal in the moisture.
Ingredients
3 whole chicken legs
1 lotus leaf
3 slices of ginger
20 wolfberries
4-5 pieces of Solomon's seal (yu zhu or polygonatum rhizome)
3 pieces of Chinese yam (huai shan)
1 piece of 8cm-long codonopsis root (dang shen), cut into 2-3cm pieces
3 red dates
4-5 pieces of Chinese lovage (chuan xiong)
1 piece of dried tangerine peel
1 tbs ginseng wine
Marinade
2-3 tbs ginseng wine
1 tbs oyster sauce
2 tsp light soya sauce
1-2 tsp dark soya sauce
1/2 tsp sesame oil
Method
1. Marinate the chicken for at least half an hour. In the meantime, rinse the yu zhu, huai shan, chuan xiong, dang shen, tangerine peel and red dates.
2. Boil 100ml to 150ml of water, then place the herbs in boiling water for five minutes. Leave to cool.
3. Soak the lotus leaf until it softens before blanching it until it's tender. Leave to cool.
4. Take a piece of foil and overlay it with baking paper. The length of the foil should be as wide as the lotus leaf (about 60cm in diameter). Place the lotus leaf green side up.
5. Fold up the edges to create a "tray" to contain liquid.
6. Place the chicken on the leaf and add the herbs, including the water used to boil the herbs, and rinsed wolfberries.
7. Fold and seal the package.
8. Fill a baking tray with 100ml of water. Place the wrapped chicken on a rack in the baking tray.
9. Bake at 220 deg C for 80 minutes.
10. Open the package carefully to avoid being scalded by the steam.
11. Add 1 tbs of ginseng wine and serve immediately.
Did you know?
Ginseng
In traditional Chinese medicine, ginseng wine is viewed as a tonic or medicinal wine. It is made by steeping ginseng in baijiu (white liquor), usually sorghum wine, corn wine, or a blend of the two.
It is believed that the herb can increase energy levels and assist in recovery after an illness.
Supported by Ang Leong Huat Pte Ltd