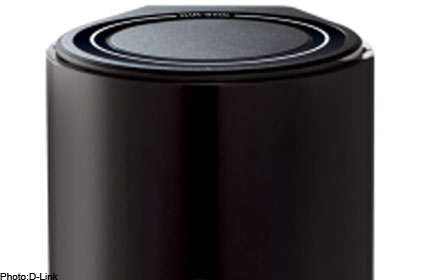 The 802.11ac is the fifth-generation wireless networking standard on the 5GHz band and is the enhanced version of the current 802.11n, promising higher link speeds.
While the current 802.11n claims data rates of up to 600Mbit/sec with a maximum of four spatial streams, the new 802.11ac boasts 1Gbit/sec with up to eight spatial streams.
Even though the new wireless networking standard has yet to be finalised, some companies, including D-Link, already have their products on retail shelves.
The DIR-850L is D-Link's latest Gigabit cloud router that supports 802.11ac (draft) standard and is designed to offer smooth gaming and high-quality video streaming and fast file transfers.
Unlike the conventional box-shaped routers, the DIR-850L looks like a cylindrical desktop speaker, except without the audio capability. However, with this design, the router adopts a small footprint which makes it easy to be placed in homes.
On the front are the power and Internet LEDs, while the rear is where you will find a USB port, four Gigabit Ethernet and one Gigabit WAN connectors, and a power button.
The USB port allows you to simply plug in a USB flash drive and transfer your files wirelessly to other devices.
Even though there are not many products on the market that support 802.11ac, the wireless standard is backward compatible with 802.11n.
There was no significant lag when I streamed a high-definition video from the USB drive connected to the DIR-850L to a 5.29-inch Android mobile phone in another room about 10m away.
The video buffering is fast despite the wireless connection rated at only 65Mbps.
The DIR-850L router settings can be accessed using a Web browser, which allows you to set up the access control, port forwarding, firewall, routing and other options easily.
If you have signed up for a mydlink online account, simply register the router to the account and you can check the DIR-850L status and its basic settings via mydlink.com.
But do note this requires the latest Java plug-in. Alternatively, you can also monitor and control the router remotely via mydlink platform or mydlink app from PCs, smartphones and tablets.
Available for iPhone, iPad and Android is the D-Link Shareport mobile app which lets you play the media files stored on a USB drive directly on your mobile device.
With mydlink lite app (not mydlink Cloud app), you can check the router's upload and download bandwidth, and manage wireless network security and status.
The DIR-850L is easy to set up and incorporates the latest 802.11ac (draft) wireless standard for superior performance.

Get a copy of Digital Life, The Straits Times or go to straitstimes.com for more stories.