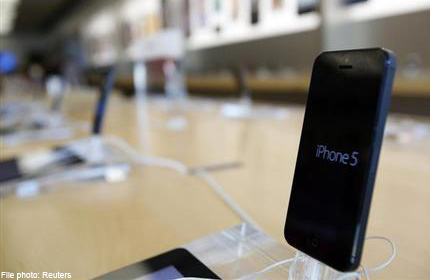 SAN FRANCISCO - Investors breathed more easily after Apple Inc turned in a quarterly report card with a pleasant iPhone sales surprise. But the resultant share-price rally may prove short-lived as Wall Street frets about sliding margins and puzzles over a dramatic revenue drop-off in its No. 2 market of China.
Without releasing a new product, Apple sold 31.2 million units of the iPhone - its most important device in the fiscal third quarter - or about 20 per cent more than analysts had envisioned.
The company's shares climbed 5 per cent in after-hours trade, partly on Apple saying it will buy back stock at a faster pace.
But revenue from all Apple products in greater China plummeted 43 per cent from the previous quarter and 14 per cent from a year earlier - worrying for a region where smartphone penetration is still low.
Growing competition in a maturing global smartphone market, coupled with the rising number of lower-priced devices in Apple's line-up, such as iPad minis and older-model phones, pushed third-quarter profit margins to below 37 per cent from more than 42 per cent just a year earlier.
Analysts and executives struggled to explain the slowdown in greater China, which includes Hong Kong and Taiwan and accounts for 13 per cent of Apple's fiscal third-quarter revenue.
Tuesday's stock rally may quickly lose steam, as Apple is dogged by issues such as lower selling prices and an uncertain product pipeline, said Colin Gillis, an analyst with BGC.
"We're not likely to have any new product shipping in June," Gillis said. Average selling prices (ASP) "are declining and margins are going to be under pressure. These things look like the realities."
Apple's average selling price during the quarter was US$581 (S$734), which is about US$27, or 4 per cent, down from the previous year. Apple attributed this decline to the "mix of products" - the company saw significant growth in the lower-priced iPhone 4 - and foreign exchange problems.
"It's not just the ASP per se," said Gartner analyst Carolina Milanesi. "What you have seen with iPhone 5 is the bill of materials is going up. You are spending more."
China drops off
The global battle for mobile supremacy is now being played out between heavy-hitters like Apple, South Korea's Samsung Electronics Co Ltd and relative newcomers like Huawei Technologies Co Ltd and ZTE Corp in China. Samsung, which for a year or more has been steadily encroaching on Apple's turf particularly in Asia, is also showing signs of fatigue and issued a disappointing earnings forecast earlier this month.
Even excluding China, Apple's revenue in the Asia Pacific region was down 35 per cent sequentially.
Apple CEO Tim Cook - who has presided over a 20 per cent drop in the California-based company's share price so far in 2013 - blamed the shortfall partly on the economy and said he remained bullish on China.
The "economy clearly doesn't help us, nor others," Cook told analysts on a conference call.
He said however that the revenue numbers didn't tell a complete picture. Apple books revenue when it sells to resellers, who then sell the products to consumers. Sales to consumers - or sell-through in industry parlance - were down just 4 per cent from the year-ago quarter in China.
By that same measure, mainland Chinese sell-through sales were actually up 5 per cent year-over-year, though that was a deceleration in growth, Cook said.
Finally, sales of the iPad - the device that catapulted tablet computing into the mainstream - underperformed. Apple shipped 14.6 million tablets in the quarter, a few million below rough estimates.
Some investors argue that Apple's hold on the market it created may slip as the field gets increasingly crowded, with the smartphone makers as well as Google Inc and Amazon.com Inc piling in.
Cook however drew attention to usage data showing the iPad still commands a dominant share of Web traffic.
"iPad accounts for 84 per cent of the Web traffic from tablets," he said. "So if there are lots of other tablets selling, I don't know what they are being used for."
But Frank Gillett, principal analyst at Forrester, warned that the iPad numbers bear watching going forward.
"You are to wonder if we are reaching saturation," he said. "But you can't believe that as the idea of a tablet is very compelling."
Given all those factors, the immediate stock rally should not be seen as proof that concerns surrounding the stock have abated, some analysts said.
"It's nice to see a bit of a beat for a change," said Hudson Square Research analyst Daniel Ernst. But "earnings are still down year over year."
"It's going to take a new product introduction before we see earnings turn positive," Ernst said. "It's a step in the right in the direction, with low expectations."