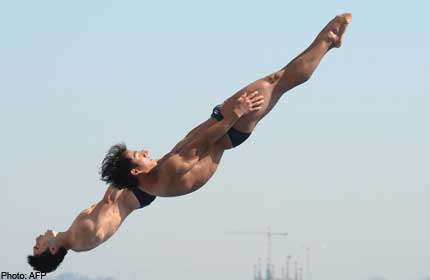 BARCELONA - Chinese diver Qin Kai recorded his fourth consecutive world championship win in the 3m synchronised springboard on Tuesday as he and partner He Chong proved far too strong for the rest of the field.
The Chinese pair racked up 448.86 points to finish well clear of Russians Evgeny Kuznetsov and Ilia Zakharov in second on 428.01 points and the Mexican duo of Jahir Ocampo and Rommel Pacheco, who took bronze on 422.79 points.
Qin and He now have a combined 10 gold medals at world championships and stretched China's unbeaten record in the global event to 10 years.
As expected they led the competition from start to finish with their only wobble coming in the fourth round, but a similarly poor dive from the Russians at the same stage of the competition meant their lead was never troubled.
However, despite claiming gold, Qin still wasn't completely happy with their performance.
"I am not very satisfied with our performance, but this gold medal had a great merit. We have to learn to dive together and this can be useful for the future," he said.
"On the fourth dive I made a huge mistake. I felt even during training that I was not very confident in this combination and the result was not good.
Fortunately, though we were consistent enough in the other dives."
European champions Kuznetsov and Zakharov recovered from their own slip up with two strong dives to finish the contest to match their silver medal performance at last year's London Olympics.
And there was a surprise in third as a disastrous attempt in the fourth round by the German pairing of Patrick Hausding and Stephan Feck saw them finish fourth behind Ocampo and Pacheco, who had only come sixth in morning qualifying for the final.