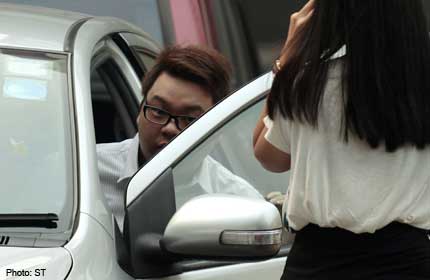 SINGAPORE - A man who lured underage girls to his house before sexually assaulting them was jailed 4½ years yesterday.
Emmanuel Lim Chin Pin, 22, got to know these girls through Facebook on the pretext of offering them part-time jobs of giving feedback after a massage session. He did this in 2012 to two girls, aged 13 and 14.
In June, Lim pleaded guilty to six charges of sexual penetration of a minor, as well as one charge each of attempted sexual penetration of a minor, performing an indecent act with a child, cheating by personation and criminal intimidation.
Another 13 charges were taken into consideration during sentencing.
District Judge Mathew Joseph said this was one of the worst cases of its type in recent times.
He said it was disheartening to note that Lim had abused the Internet and Facebook.
"The court therefore has a duty to ensure that it remains safe for young people, especially from the clutches of sex predators who prowl the Internet as if it is their own personal hunting ground for easy prey,'' he added.
The judge found Lim's actions "dehumanising and an outrageous affront to the innocence'' of his young victims.

Get The New Paper for more stories.