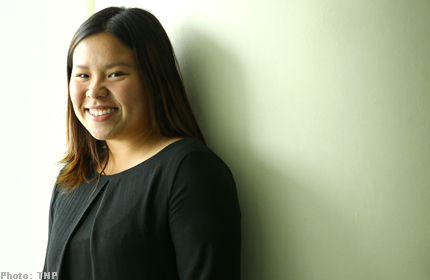 SINGAPORE - She had to grow up quickly while experiencing her parents' divorce, but she still managed to ace her classes.
Miss Joey Ong, 20, who became one of 92 new Public Service Commission (PSC) scholars yesterday, puts it down to focusing on what she has rather than what she lacks.
Miss Ong, who has a diploma in mass communication from Ngee Ann Polytechnic (NP), is one of five polytechnic graduates who received the scholarship in a ceremony held yesterday at the Grand Copthorne Waterfront Hotel.
She said her parents filed for divorce when she was 13.
But, she said:
"Life is nothing without challenges. If everything goes smoothly, we can never learn from these challenges. I can take pride in what I have experienced," she said.
The drawn-out legal proceedings meant she had to deal with her parents' divorce all the way through secondary school while living within the means of her mother's salary.
Her mum, Madam Lim Jenny, 47, worked as an administrator at a junior college.
Hardest time in life
It was in her second year in NP when they had to sell their family home as part of the court settlements when she experienced the "hardest time in (her) life".
She recalled needing to be creative in finding places to study as space in the rented room she shared with her mother in a four-room HDB flat in Toa Payoh was limited.
She said: "I was always outside trying to get things done because we didn't have space. I remember going to the staircase landings along a corridor to prepare for presentations.
"It was a tough time in life, but I think I was focused and ended up topping the level that semester."
She has since learnt to take life's challenges in her stride.
"Sometimes people beat themselves up and feel everything is going wrong for them. I think it was important for me to value and appreciate what I had."
The trying times also led her to experience the warmth of her extended family as they supported her.
Miss Ong, whose grandmother took care of her as a child, said she was blessed to have received a lot of help from her seven uncles and aunts and most of all, her mother.
She said: "They are very happy for me and have always been supportive. My mother has always given me emotional support and a certain autonomy in making decisions.
"I am glad she can see the fruits of that support today."
While some students cite the bond to a government ministry as an obstacle to accepting the scholarship, Miss Ong said service in the public sector is a good fit for her.
Ms Adelaine Manzano, 30, manager of The Christieara Programme, a talent development programme for selected NP students, said Miss Ong has achieved not just "a scholarship with prestige" but also one which is "just right for her to blossom".
"It is very rewarding for us as she has achieved what she hoped to achieve with her strengths, interests, skill-base and passion. It is not just a career but also a calling for her," said Ms Manzano.
Miss Ong agreed.
"My lecturers reminded me the PSC was looking beyond academic achievements and more about a career fit and a passion for the community," she said
She intends to major in sociology at the National University of Singapore.
Her passion for community was most keenly displayed in her school projects. For a final-year project at NP, she made a short film title 9 to 5, highlighting the struggles of odd-job workers, among them a blind busker and a tissue paper-seller with cerebral palsy.
She said her successful application for the scholarship is proof the PSC is open to diversity among the scholars they pick.
She said: "It is not about the circumstances or coming from an ideal background. It is how you respond to it. Every challenge should be seen as an opportunity to better yourself."

Get The New Paper for more stories.