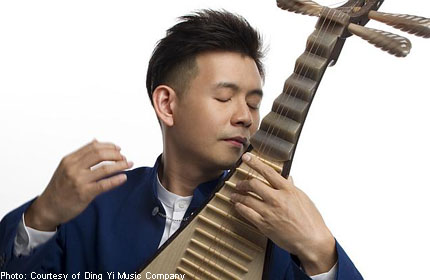 SINGAPORE - The melancholic quality of the Western oboe intertwined with the piercing notes of a Chinese suona are not often heard together.
However, you can catch this unique blend of East and West at Ding Yi Music Company's latest offering, Modern Voices - Class Of 1978, next week.
The Chinese chamber orchestra will perform works from a diverse generation of Chinese composers known as the Class Of 1978 - so named because its prominent members entered China's Central Conservatory of Music that year, when the conservatory reopened after the end of the Cultural Revolution.
The concert will feature works by composers such as Zhou Long, who won the 2011 Pulitzer Prize for Music for his opera, Madame White Snake, and Tan Dun, who scored the martial arts films Crouching Tiger, Hidden Dragon (2000).
Lim Yau, who will conduct the ensemble, says: "Ding Yi has always had a progressive outlook towards programming, with a strong emphasis on new music... It seems natural that the concert features this group of composers, who became key figures not only within the Chinese musical diaspora, but also major composers of contemporary music."
Lim points out that the compositions contain strong elements from both Eastern and Western cultures, which come together to create a unique sound.
One highlight of the night is Ghost Opera by Tan Dun. It will be performed by a Western string quartet and a Chinese pipa soloist.
Of the instruments, Lim says: "Both are taken far out of their comfort zones in dramatic ways, but the overall effect is musically and theatrically sublime.
Chua Yew Kok, 34, will play the pipa. He says of the 40-minute piece: "This piece is quite theatre-like. Not only do we have to play our instruments, we also have to interact with other things as well, like Tibetan bells and paper. So it's not only musically interesting, but visually interesting as well."
Veda Lin, on the other hand, will play a Western instrument, the oboe, while accompanied by a Chinese chamber ensemble.
She says: "The contemporary composers are always trying to seek out new effects, not neccessarily those produced by normal playing techniques. For the oboe, they sometimes require it to be played without the reed, or produce flutter-like effects."
She says that playing with a Chinese ensemble has been a treat. "I'm enjoying the experience very much, but I'm still not able to identify what each of the instruments are," says Lin.
"Maybe I'll get better at that after one or two more rehearsals."
Book it
Modern Voices - Class of 1978
Where: Esplanade Recital Studio
When: Aug 3, 7.30pm
Admission: $25 from Sistic (go to www.sistic.com.sg or call 6348-5555)
Get a copy of The Straits Times or go to straitstimes.com for more stories.