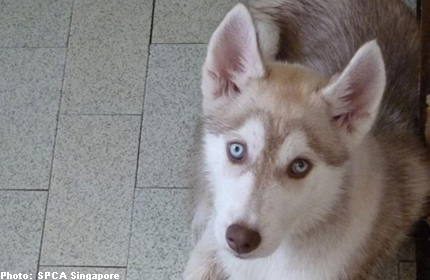 SINGAPORE - The Society for the Prevention of Cruelty to Animals (SPCA) has defended itself successfully against the first lawsuit it has ever faced, after a woman claimed it had wrongly detained her husky.
The SPCA received a call in July last year from a member of the public who reported an Alaskan husky left tied to a tree in Yio Chu Kang.
Attempts to contact its owner failed and the dog was fostered by a family who named him Zac, before a woman known only as Ms Yang contacted the SPCA claiming to be its owner. But she could not validate her claim and it was rejected by the society.
Ms Yang started legal proceedings last year, claiming the SPCA had wrongfully detained the husky, causing her financial loss and emotional distress.
She claimed the pet was bought as an investment and intended to be a show dog, and demanded from the SPCA $500 for each day until the end of the suit, on top of legal costs and another $1,000 for "consequential costs".
After 10 months and two mediation sessions, for which Ms Yang failed to turn up, the case was thrown out by District Judge Joseph Yeo last month. He struck out the plaintiff's writ of summons and statement of claim.
Ms Yang was ordered to pay the SPCA for legal costs and the dog's upkeep, estimated to total about $6,000. The SPCA has not been able to contact her since the case was thrown out. Zac was subsequently reunited with his foster owners.
SPCA executive director Corinne Fong said on Wednesday: "In spite of the case taking so long, the animal's welfare was a prime concern for us and we stood our ground."

Get a copy of The Straits Times or go to straitstimes.com for more stories.