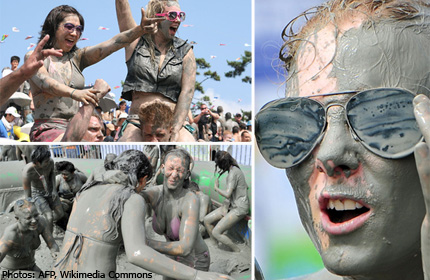 Things are getting really messy and dirty in South Korea's Boryeong this week - all in the name of fun and beauty.
The annual Boryeong Mud Festival, now into its 16th year, went into full swing last weekend and organisers are hoping to break last year's record of three million participants, according to a CNN report.
The festival, held in a town of Boryeong in South Korea's South Chungcheong Province, was originally conceived as a marketing tool for Boryeong mud cosmetics. The mud there is rich in minerals and is said to be beneficial to the skin.
During the festival, there are mud pools, mud slides and a even mud prison for revellers to splash about. Visitors can also engage in mud wrestling and mud marathons.
The festival is popular not just with the locals - many tourists have also made their way to Boryeong to revel in the mud. Organisers are expecting this year's event to bring in 300,000 foreign visitors, reported CNN.
"This year, we amped up the Family Zone to meet the demands of people travelling with children," said event organizers. "There are many foreign families travelling to Korea just for the festival."
But it is not just about getting dirty. Certain restaurants in the vicinity are being converted into fast food joints, dishing out pizza and hamburgers during the course of the festival. They are hoping to cater to the foreign palates by offering more options apart from the traditional Korean delights, said the CNN report.
The 16th Boryeong Mud Festival will run until July 28 this year.
Interested in getting muddy? You can call the Korean, English, Japanese and Chinese travel hotline at +82 2 1330, or head down to 1029-3, Sinheuk-dong, Boryeong-si, Chungcheongnam-do, South Korea to get a piece of the action.
ysheryl@sph.com.sg