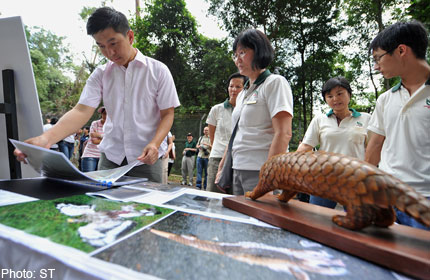 SINGAPORE - A $17 million bridge for monkeys and other wildlife is on track to be completed by the end of the year, the National Parks Board (NParks) and the Land Transport Authority confirmed on July 24.
Structural works for the Eco-Link@BKE are almost done, and the site is now being prepared for the planting of trees.
The 62m-long overhead bridge will reconnect Singapore's largest primary and secondary forests, the Bukit Timah Nature Reserve and the Central Catchment Area.
Both forests have been separated by the Bukit Timah Expressway (BKE) since 1986, leaving animals like rare banded leaf monkeys cut off from their fellow monkeys on the other side.
When ready, it will allow these animals an easy way to cross the BKE.
Get a copy of tabla! for more stories.