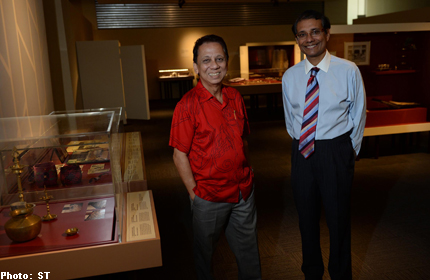 SINGAPORE - Even after 37 years of research into his family history, 65-year-old Cedric Pereira is still uncovering interesting facts about his ancestors.
Just six months ago, he found that his great-grandfather James Sebastian Klass had been awarded an Imperial Service Medal in 1917 from King George V, after running his name through the National Archives of Singapore. He was presented the award for long service as a wound dresser at Tan Tock Seng Hospital, by Governor-General E.S. James.
"Sometimes oral accounts aren't enough and that's where the archives come in - to verify and add on to what we already have," said Mr Pereira, one of 17 Singaporeans whose family stories feature in the National Library's latest exhibition, Roots: Tracing Family Histories.
The exhibition at the National Library Gallery, which will run till Feb 16, was officially launched on Thursday by Senior Parliamentary Secretary (Communications and Information; and Education) Sim Ann. It follows the journeys of families as they trace their family histories through personal documents and official records. It also looks at how traditions and legacies, such as businesses, homes, heirlooms and even recipes, are passed down and kept alive.
Highlights include a birth certificate that dates back to the 1890s and a pre-war marriage certificate.
Visitors will also be able to learn about the resources they can use to research their own family tree, including the National Library's collection of Singapore newspapers which date back to 1831.
Ms Tan Huism, head of exhibitions and curation at the National Library Board, said family history is not just shared through records and a list of dates and numbers, but also "through stories and memories that link generations in a deep personal way".
Said Mrs Elaine Ng, chief executive officer, National Library Board: "Understanding where our families came from and how they lived is an important way of keeping meaningful family traditions and values alive."
Chairman at Law Asia, Mr Paul Supramaniam, 56, whose family also features in the exhibition, agreed.
"It will also give us a sense of Singapore's rich multi-cultural tapestry and generate awareness about our roots in great ancient civilisations such as China and India and the common stories of courage and fortitude among our ancestors."
Get a copy of The Straits Times or go to straitstimes.com for more stories.