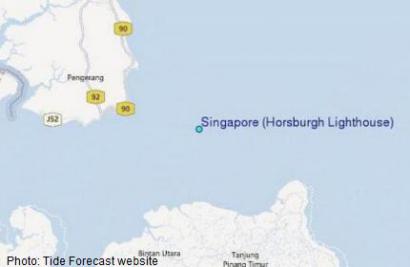 SINGAPORE - The search for eight missing crew members of a barge which capsized in Singapore's waters drew a blank on Thursday.
They were among a crew of 10 - all Chinese nationals - who were on board the Mongolian- flagged Guo Liang 677 when it capsized 13km north of Pedra Branca island on Wednesday. Two were rescued the same day.
The one saved by the Police Coast Guard did not require medical attention and was doing well, said the Maritime and Port Authority of Singapore (MPA) on Thursday.
The other, who was rescued by a vessel in the vicinity, was taken to Malaysia.
The Chinese Embassy in Singapore has been kept informed.
The ongoing multi-agency rescue effort has involved the air force, navy, coast guard, Resolve Salvage & Fire (Asia), which provides emergency response for vessels in distress, and 14 other passing commercial vessels.
MPA, which was alerted to the accident at 1pm on Wednesday, did not reveal any further information on Thursday. It did, however, clarify - after checking with the rescued seaman - that there had been only 10 people on board instead of the 11 reported earlier.
This is the second major accident in three years near Pedra Branca, where the Horsburgh Lighthouse sits. The island is located 45km east of Singapore in the South China Sea.
In January 2010, a Singapore- flagged vessel carrying 13 Indonesians capsized about 30km east of the island.
Only two aboard the 51m-long tugboat Ocean Lark survived. Seven bodies were recovered, and four men are still missing.
Get a copy of The Straits Times or go to straitstimes.com for more stories.