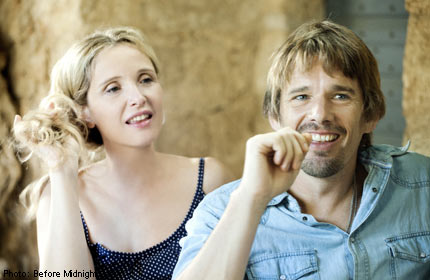 MOVIE: 4/5
TIME: 109 minutes
Nine years after the events of Before Sunset (2004) and 18 years after Before Sunrise (1995), Jesse (Ethan Hawke) and Celine (Julie Delpy, both below) are a married couple in their 40s, with twin daughters of their own and a son from his previous marriage.
As the pair and their children holiday in Greece, they debate over whether it is possible for them to last as a couple.
This work is the third instalment of a series of films that have inspired a thousand student shorts featuring couples talking, walking and then talking some more. Director Richard Linklater should be held accountable for the suicides of several film professors.
There are indeed several long takes here featuring nothing but Jesse and Celine verbally addressing the workaday routines of their union (sending his morose son back to the United States to be with his mother, Celine's career-switch quandary) as well as discussing the matter of their relationship directly (whether romance lasts and if there is anything beyond it, how they have changed since their first and second meetings).
Hawke and Delpy return to that improvised style of line delivery that gave the first two films such journalistic, almost voyeuristic, power. It helps that the last 20 years have been kind to their looks, and there is not a bad frame to be found in the Greek countryside.

Get a copy of The Straits Times or go to straitstimes.com for more stories.