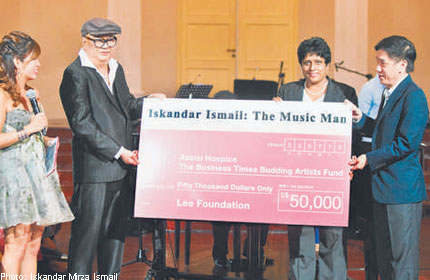 SINGAPORE - It was really when the old photos of musician Iskandar Ismail began appearing on the projection screen that the crowd started whooping and cheering.
In his slouchy T-shirt, shoulder-length hair and unkempt moustache, the young hipster in these photos was a far cry from the decorated, celebrated Iskandar in his three-piece suit, sitting in the august chambers of the Old Parliament House.
Here was, after all, the man who has had a hand in almost every major musical event in Singapore for 30 years - from being the long-time music director of the National Day and Chingay parades, to co-arranging Dick Lee's seminal album The Mad Chinaman, to composing the score for stage hits like Chang & Eng.
But the photos in the slideshow presentation looking back on his life reminded the crowds that Iskandar, 57, was once a struggling musician working in studios, bars, clubs and discos - just like millions of other struggling musicians.
And when the man himself decided to stand up and raise his hand out to the crowd with a "hang loose" gesture - middle three fingers in, thumb and little finger out - it was a sign to his friends and fans that his hipster heart was still very much intact.
Though the crowd was there to celebrate the launch of his biography Iskandar Ismail: The Music Man, vividly written by Monica Gwee and published by Epigram Books, there was also an unmistakable tinge of melancholy in the air.
Almost everyone was aware that Iskandar had been battling lung cancer since 2010. That night, his gait was tentative and he wore a golf cap, having lost his hair in the most recent round of radiotherapy treatment.
Iskandar used to juggle countless music projects and was universally regarded as a workaholic - despite his laid-back, gentle demeanour. As described by Gwee in the book, he would wake up at 6am every day to work on his music compositions.
When the illness struck, his wife Erna insisted he scale back his commitments.
And though he has done that to a large degree, he remains firmly committed to overseeing the music direction of this year's National Day Parade as well as ChildAid, Singapore Press Holdings' annual showcase of young talents that raises funds for The Business Times Budding Artists Fund and The Straits Times School Pocket Money Fund.
But at least here, in the Old Parliament chambers, surrounded by the people he loved and who loved him fiercely back, Iskandar had momentarily put his worries aside and seemed genuinely satisfied and happy.
The 2008 Cultural Medallion recipient told The Business Times: "Words can't describe how overwhelmed I am that my friends and the people whom I've worked with all my life came to support me at this book launch.
"It isn't easy for me as I've been feeling tired, and recuperating. But even though I am tired, I feel so happy and touched."
Dick Lee, who's known Iskandar since they were teenagers studying music at the Yamaha Music School, got on the piano and sang a moving rendition of Paul Anka's everygreen Times of Your Life: "Good morning, yesterday/ You wake up and time has slipped away... "
Amni Musfirah, a 19-year-old singer whom Iskandar talent-spotted when she was 14 and encouraged to study in Berkelee College of Music, where he too had studied, showed off her vocal chops by belting out Celine Dion's Because You Loved Me - barely holding back her tears throughout it.
And another talented young performer, a Japanese violinist named Asami Wada, also thanked Iskandar later that night for helping her secure a stint in Singapore to study English and music.
Wada, 15, had thought of giving up music when she lost her father two years ago and was unable to pay her music tuition fees. When Iskandar learnt of her plight, he sought ways to help her continue her musical journey.
Indeed, the night ended on another note of generosity when he presented a check of $50,000 from the Lee Foundation for The Business Times Budding Artists Fund and the Assisi Hospice. He said: "I worked on the book because I wanted share my story with all the aspiring musicians out there. I'm hoping to inspire them to achieve success."
Charity sales of the book Ismail Iskandar: The Music Man is now available at $200. Proceeds will go to The Business Times Budding Artists Fund and the Assisi Hospice. Call 6513-3014 for enquiries. Subsequently, the book will be available at major bookstores at a yet-to-be-announced retail price.
Also, a hand cast of Iskandar Ismail's hands created by artist JJ Wee is up for a charity silent auction. It is currently displayed at the Arts House gallery, along with photos of the musician.
Get The Business Times for more stories.