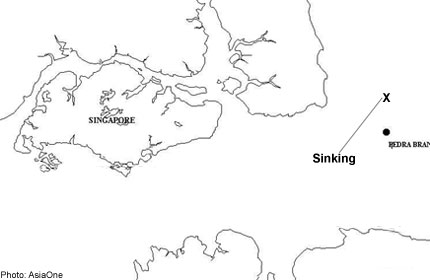 SINGAPORE - Search and rescue (SAR) efforts for the 8 Chinese nationals from the Mongolian-flagged barge Guo Liang 677 are still ongoing as assets from the Police Coast Guard (PCG), air force, navy and commercial vessels scour the waters for survivors.
The barge had capsized on July 24 in Singapore waters about 13km north of Horsburgh Lighthouse.
One crew member was rescued by a PCG patrol craft in the area, while another crew member rescued by a vessel in the vicinity was reported to have been brought to Malaysia.
The Maritime and Port Authority of Singapore (MPA) has been coordinating the SAR efforts which has involved a total of two Super Puma helicopters and two Fokker-50 Maritime Patrol Aircraft from the air force, four patrol vessels from the navy, three PCG patrol craft, divers and two diving support vessels from Resolve Salvage & Fire (Asia), and 64 passing commercial vessels as of 6pm on Friday.
grongloh@sph.com.sg