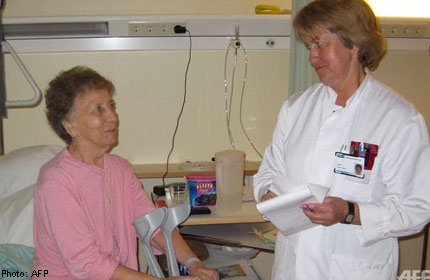 TAMPERE, Finland - Sitting on a hospital bed with a slight smile on her face, Valentina Micheeva looks a decade younger than her 80 years as she explains how four days earlier she had her hip replaced - not in her native Russia but at a clinic in Finland.
A sports-loving woman, she had to stop jogging because her hip ached and, despite the pain, she was unable to get an operation performed at home in Moscow.
"I was too old to get a prosthesis. They only gave me painkillers," she said. "There are good doctors in Russia. But too many people want to visit them! If you don't have connections, it's very complicated."
The only solution that remained was surgery abroad. "My daughter lives in Finland. She heard about the Coxa (Clinic) on television and told me to come here," she said.
Each year, the Coxa Clinic in Tampere in southern Finland, which is majority public-owned, welcomes about 20 Russians among its 3,000 patients.
"It's not a lot yet, but we haven't been looking for foreign patients for a long time," said Tarmo Martikainen, the clinic's CEO.
"We would like to have a hundred foreign patients per year," he added.
Coxa HealthCareFinland, together with other Finnish hospitals, has formed a group to attract Russian patients, seeking to benefit from the Finnish health sector's competitive advantages.
Although they're out of reach for most Russians, Finnish healthcare providers say their services are competitively priced compared with other countries targeting Russia's wealthy.
"Our prices are lower than in Germany for instance, and we're much closer.
You only need six hours to go by train from Saint Petersburg to Tampere," said Jorma Pajamaaki, one of the clinic's surgeons.
Treating foreign patients however poses some problems. "Language is probably the biggest obstacle," said Pajamaaki.
To tackle the language barrier, Coxa has recruited Russian staff such as Irina Ivanova, a medical doctor who is in charge of receiving new patients and translating for them.
Next to her hospital bed, Valentina Micheeva proudly displays a stack of laminated vocabulary cards showing the same words in Russian and in Finnish.
But special care comes at a price.
"Coming to Finland for surgery is very expensive for the Russian patients. I think it's about the price of a (luxury) car," Ivanova said.
In recent years, Finnish medical institutions have been seeking to take advantage of flaws in the Russian health system. It's already big business, but it could expand even more.
In 2011, about 10,000 Russians spent 15 million euros ($19.5 million) on health services in Finland, ranging from dental surgery to cancer treatments.
Industry professionals hope to see the market triple by 2020.
"Finland advertises more and more abroad about its medical facilities," said Martikainen. "Logically, it turns to Russia because it is the nearest market."
The Russo-Finnish trade relationship, which has traditionally been based on energy, is likely to see major changes because of industries such as medical services.
"Russia is the only country towards which Finnish exports are increasing.
It is our second business partner after Sweden," said Timo Laukkanen, a Russia expert at the Confederation of Finnish Industries.
Nearly a century after the independence of Finland from Russia, "business issues have already become more important than political or military issues," said Laukkanen.
"Russia could become our biggest trading partner in a few years," added another expert, Markku Kivinen.