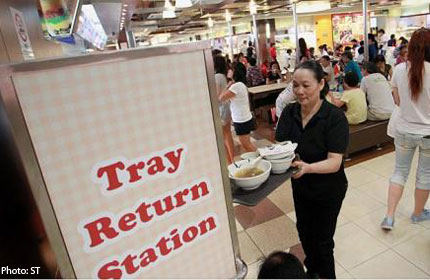 Tray return points and racks will be fitted at all hawker centres in Singapore in the next two years, the National Environment Agency said on Saturday.

Get the full story from The Straits Times.
Here is the full statement from the National Environment Agency:
The National Environment Agency (NEA) announced today that 34 hawker centres will be fitted with tray return facilities under the first of three phases to roll out the Tray Return Initiative to all hawker centres in Singapore over the next two years, after the pilot scheme involving nine centres had started in November 2012.
The first phase is slated to be completed in the next eight months. This is part of the continual efforts to promote tray return as an effort to help keep hawker centres and food outlets clean and as an act of social graciousness towards cleaners and fellow patrons.
The launch event was held at Yuhua Market & Hawker Centre today, the first tray return ready centre under the first phase.
Subsequently, the Tray Return Initiative will be introduced in Bukit Timah Market tomorrow. More details on the schedule of the other centres will be announced later.
The Tray Return Partnership also welcomed 11 new Tray Return Partners who will join the working group, which currently consists of members from 17 major food courts operators and Quick Service Restaurants (QSRs, also known as fast food restaurants). NEA is happy to note that all QSR outlets are now tray return ready. Participating food courts will also be tray return ready by end 2014.
All partners recognise that it takes time to change the public's mindset for the tray return habit to kick in, and that consistent effort is required to sustain public participation in the initiative. The partners will continue to plan and coordinate these efforts.
A new Tray Return Icon was also launched to help the public to identify tray return ready eateries. It was revealed by Second Minister of Environment and Water Resources, Ms Grace Fu. The icon will be displayed at all tray return participating hawker centres, food courts, QSRs and other dining establishments from August 2013. We hope that the icon will remind the public to return their trays and create a cleaner dining environment for everyone.
This icon was jointly developed by NEA and its Tray Return Partners from over 200 entries submitted in the Tray Return Icon Design Competition that ran from May to July 2013. Prizes were awarded to the top three designs and consolation winners.