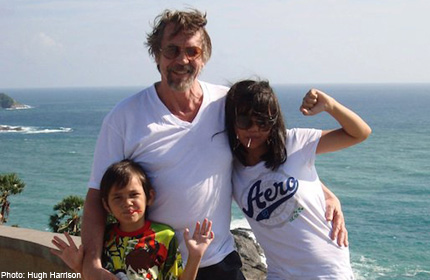 SINGAPORE - Many Singaporeans don't seem to like their new National Day songs, but they hold fond memories of old favourites like Stand Up For Singapore, Count On Me Singapore and We Are Singapore.
The irony is that these all-time favourites were not written by a Singaporean, but by Canadian ad-man Hugh Harrison, now 62.
When we asked 10 Singaporeans, only one knew that Mr Harrison was behind those songs. While some were surprised that a non-Singaporean had written them, all of them had no issue with that.
Mr Harrison was happy to remain in the background for nearly 30 years - until now, when he opened up to The New Paper on how he came to write the songs.
He was working for the McCann-Erickson advertising agency when the then Ministry of Culture asked a number of big-name advertising agencies to come up with a campaign for the 25th anniversary of self-governance in 1984.
Recounting his experience writing Stand Up For Singapore, he said: "I was given the brief on a Friday and spent a weekend conceptualising an appropriate theme."
The Monday after, he was recording a Coca-Cola advertisement at Lion Studios, which is now partially owned by jazz musician Jeremy Monteiro.
Mr Harrison, who used to play at Canadian jazz bars, said: "I sat down at the piano and laid down a demo version. I can only think that the words must have flowed quite naturally from the theme and the music flowed from the words."
Mr Harrison's agency won the tender.
He did not expect such a positive response to the song, which was even performed by the New York Philharmonic Orchestra at the National Stadium in September 1984.
He said: "It was a total surprise to me that the song was suddenly deemed worthy of public performance."
Mr Harrison had expected it to be played only on TV.
Shortly after writing the song, he left for a job in Hong Kong. While there, he got word that the Government wanted a new song "that was directed at the country's youth".
He said: "On the plane from Hong Kong to Singapore, I had a vision of young people standing together resolutely shouting to their leaders 'You can count on us!'"
And so Count On Me Singapore came to be. It was written over a weekend.
Mr Harrison moved back to Singapore in September 1986.
Shortly after, he was asked to write a third song. He said: "The ministry had asked for a grander production and I had visions of a multi-part song."
"However, it became harder for me to find lyrical inspiration this time around. "After all, it's pretty hard to envision grandness when thinking of Singapore, mostly due to its small size."
Considering that he had difficulty by the time he wrote his third national song, We Are Singapore, Mr Harrison knows first-hand the challenge of writing new ones.
He said: "If some of the songs don't hit home as well as others, it would be only natural. After all, how many ways can you say Singapore's a great nation?"
But he does not think that we should stop coming up with new songs. He said: "I think it's still a fun idea to create a new song every year."
Back in 1987, the parade committee liked the song, but wondered if a Singaporean should be given a chance to compose the National Day song.
Competition winner
A competition was announced and We Are Singapore was placed alongside other songs, only for it to emerge the winner about eight months later.
Mr Harrison left Singapore in 1991 and travelled the world. He eventually settled in Thailand, where he worked as a creative director.
About a year ago, he moved back to Canada with his Thai wife and two children.
Mr Harrison acknowledges that not many Singaporeans know that these songs were written by a foreigner.
He said: "I would never want to diminish the sentiments many Singaporeans may attach to these songs.
"(But) I'm pleased to see that young Singaporeans have taken over the reins since," he said, referring to the newer songs.
He adds that he does not think the reason a foreigner wrote these songs then was a lack of qualified local musicians.
He said: "It's just that the National Day song movement only came about following the introduction of the first three songs, which for whatever reason just happened to have been written by me.
"These songs were not written as 'national songs', but instead were just written as songs that later attained 'national song' status." After he wrote the songs, he asked Mr Monteiro to help arrange them.
Mr Harrison wrote the tune and the words, and Mr Monteiro wrote the parts for the various instruments used in the background music.
Asked what he remembers best about working with Mr Harrison, Mr Monteiro said: "He used to love to spend time with Singaporeans in bars, hawker centres and visiting friends in HDB flats.
"He immersed himself in Singapore culture and I think that's why he struck a chord."
Reflecting on the impact his songs has had on Singapore, Mr Harrison said: "I will always feel honoured to have been given the opportunity to contribute to a small degree towards Singapore's nation-building process."
While he has not written songs in a while, concentrating instead on writing books, he said: "I have a couple of keyboards in my study. Maybe I'll turn back to music when I finish my books."
Really, a Canadian?
Did you know that Stand Up For Singapore, Count On Me Singapore and We Are Singapore were written by a Canadian? Nine out of 10 Singaporeans asked by The New Paper didn't. Here are some responses:
"For a foreigner to capture the essence of the Singapore identity is surprising."- Corporate communications executive Julian Soh, 28
"The songs resonate with people, so I don't think we need a Singaporean to write it. (After all) people don't remember who writes the songs but only the memories they have of it." - Student Colin Tan, the only person who knew Mr Harrison was the composer. He said he found out from a friend.
Mr Teo said: "I think it would have been better if it was written by a local, so as to support the local music industry." "How can it be a Singapore National Day song when it wasn't written by a Singaporean? I guess... we didn't have enough creative people to write such songs then." - Undergraduate Charmaine Koh, 21

Get The New Paper for more stories.