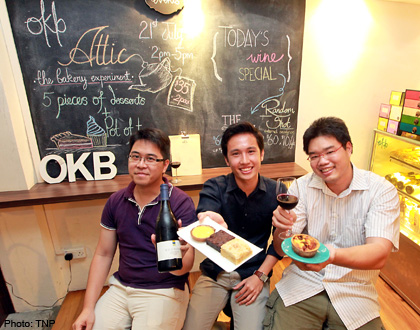 SINGAPORE - It is not easy running a restaurant full time, much less juggling it with school.
Mr Brendon Au and Mr Kenneth Ang, both 24, who set up a restaurant last December, learnt that the hard way.
Any free time was consumed by the running of okb (short for One Kampung Bahru), and because they had yet to get a grasp of how staffing worked, the pair were in the restaurant till nearly 1am every night.
"At some point, one of us would even end up having to wash the dishes," said Mr Ang.
Added his business partner: "We have to be honest, our results took a blow. I probably went to 10 per cent of my lectures."
The duo, who graduated from the National University of Singapore earlier this month, credit friends who were "very understanding" and helped them with lessons.
Learning as they went along, the two now have six full-time staff running the restaurant, with two part-timers who work on weekends. This came from their experience of running yoghurt stands which hired only part-time staff.
Back then, employees were calling in sick nearly every day and the owners had to step in to run the stand.
Mr Au said: " The problem was we didn't love the product we were selling and we couldn't convince our employees either." They saw it as "just a job" to earn money and weren't serious about it.
The men chanced upon okb last year when they were organising a tasting session for their wine distribution business.
Initially started by private dining chef Jeremy Cheok, 28, as a cafe, Mr Ang and Mr Au said they saw an opportunity in serving Western food with an Asian touch to dinner crowds.
They bought into the restaurant, but declined to say how much they spent, though they revealed that the cash came from running the yoghurt stand and their wine business.
Mr Cheok, who is still the majority shareholder, still helps with menu development.
"You could say we fell in love with what Jeremy was doing. And that was when we realised the key to staff taking ownership is to empower them," said Mr Au.
For instance, the restaurant manager at okb created a sangria (Spanish wine cocktail) which they put on the menu.
'Extra effort'
Said Mr Au: "She (the manager) really takes extra effort to get people to order it because it's hers, and she's proud of it. This is something we try to inculcate in all our staff members."
Despite being a business graduate, Mr Au said there are "many things they don't teach you at school".
He added: "When you have a brick-and-mortar shop, you have to be around to make sure it works and be ready to get your hands dirty."
While they have yet to recoup their initial investment, day-to-day operations are profitable.
Many tend to be enamoured by the term "entrepreneur", Mr Au said.
He explained: "It's a very fancy term and people have the misconception that you can make a lot of money very quickly. But that's not the point of starting your own business and being an entrepreneur.
"You start your own business because it's something you love and believe in, and it's something you want to share with others. That's why we're doing this."



Get The New Paper for more stories.