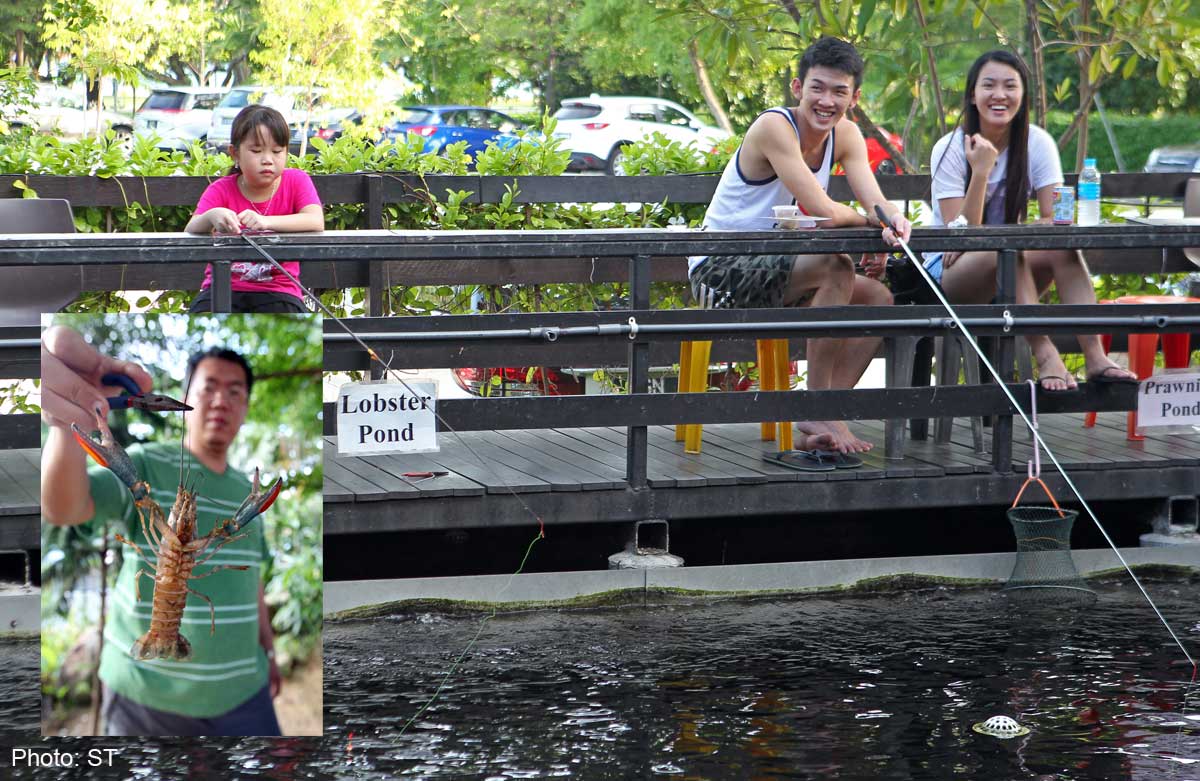 Eyes trained on the pond, engineer Roderick Ong abruptly yanks his fishing rod up as a ripple skips across the water, yielding a tiny crayfish.
This is a process of "play and judgment", says the 42-year-old, who was angling for the crustaceans at the Fish@Big Splash pay pond in East Coast Park on a recent Saturday evening.
Unlike prawning, anglers have to contend with the bigger claws and tougher outer shells of the crayfish, which make them more difficult to catch.
Two other pay ponds here have also been offering this new breed of fishing since January: Ebi J Punggol Prawning in Punggol Marina Country Club and East Coast Prawning, near the Burger King outlet in East Coast Park.
Operators say introducing crayfish to prawning enthusiasts spices up the hobby.
"It may be more impressive to pull up a crayfish than a mere prawn," says Fish@Big Splash owner Patrix Chiam, 37.
He set up shop 11/2 years ago and began offering crayfish five months ago, when his supplier gave him the option. He agreed as he wanted to dangle something new to draw customers.
The three pay ponds each draw between 300 and 400 customers a month, though this figure includes those who fish for prawns.
The number has risen by about 20 per cent for all three operators since they added crayfish to the mix.
Both the crayfish and prawns are plonked into the same pond to boost the chances of a catch, says Mr Chiam. The weight of the crayfish ranges from 50 to 400g.
"Catching crayfish requires more skill and beginners may not be able to hook them," he explains. For example, the fishing rod has to be kept still as crayfish are more likely to miss the bait compared with prawns.
"I don't want a scenario in which a customer sits around and catches nothing for three hours," Mr Chiam adds.
The same type of fishing rod is used to catch prawns and crayfish, though the bait is different: chicken heart for crayfish and earthworms for prawns.
The three pay ponds charge about $35 for three hours, similar to prawning rates, even though crayfish cost more than prawns.
SundayLife! understands that it costs about $45 to buy 1kg of crayfish, compared with about $30 for the same amount of prawns.
Ebi J Punggol Prawning's owner, who wants to be known only as Mr Ng, explains: "Even though the cost price is high, I wanted to invest to generate interest first."
The hobby, however, has drawn mixed reviews from prawning enthusiasts.
Teacher Loh Kee Seng, 36, who takes his catch home to prepare tempura, says catching crayfish is "not all that exciting".
"Sometimes, the prawns I catch are even larger than the crayfish," he adds.
However, customer service manager Herbert Ho, 42, views the challenge of catching crayfish as a good way to cultivate patience in his nine-year-old daughter.
The pair started the activity two months ago at Fish@Big Splash and barbecue their catch at home afterwards.
"Apart from the thrill of catching something, I hope it also teaches my daughter the value of patience."
keziatoh@sph.com.sg

This article was first published on June 29, 2014.
Get a copy of The Straits Times or go to straitstimes.com for more stories.