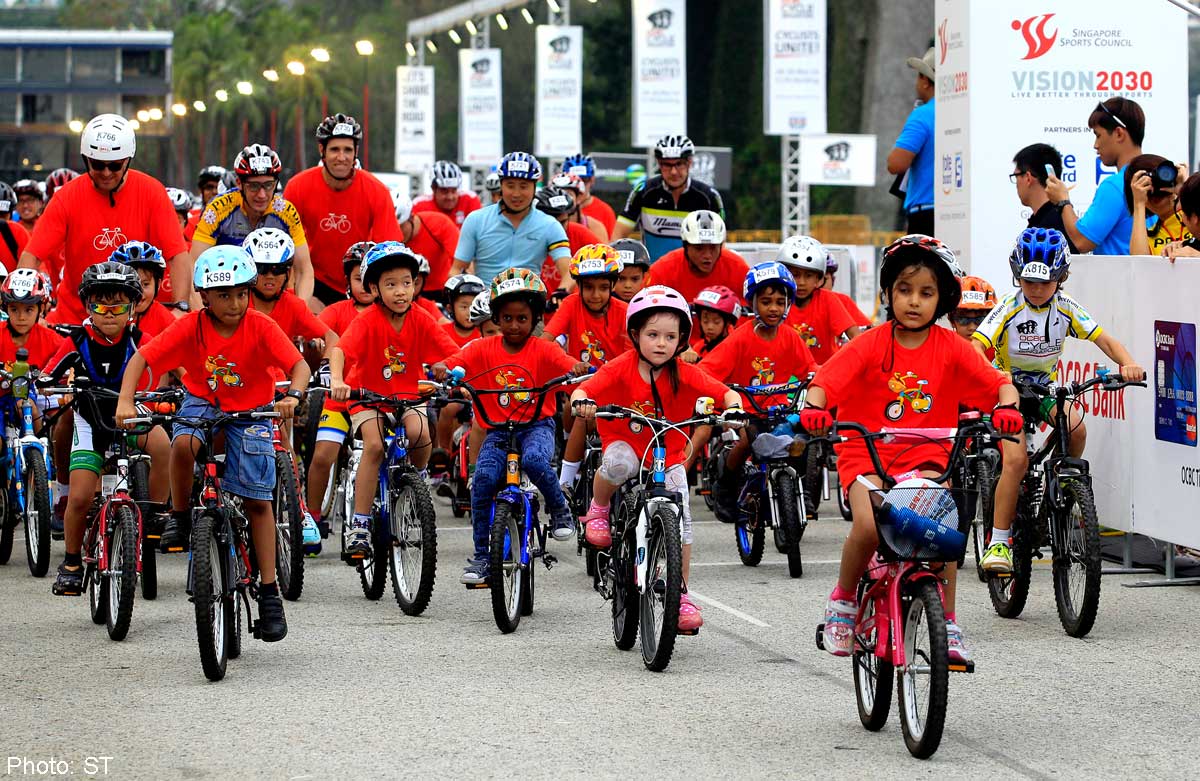 Next year's OCBC Cycle will start and end at the new Singapore Sports Hub, bringing the popular cycling event a refreshing change even before a new event organiser has been appointed.
Holding the event at the 35ha facility in Kallang is one of the key criteria set by OCBC Bank, when it released an open tender yesterday for organisers to bid to run the event.
The homegrown bank is already closely associated with the Sports Hub, having gained naming rights to the OCBC Aquatic Centre as well as the OCBC Arena.
It has backed Cycle Singapore for the past six editions, but terminated its partnership with event owner Spectrum Worldwide earlier this month, citing a desire to inject fresh ideas into the event.
While the one-day inaugural edition in 2009 attracted 5,400 participants, the three-day extravaganza in March this year saw about 11,500 cyclists take to the roads. A Malaysian edition has also been held in Kuala Lumpur for the past three years.
"The OCBC Cycle series in Singapore and Malaysia sets the regional standard today for such events," said OCBC's chief executive officer Samuel Tsien.
"But that's no reason for us to be spinning our wheels. Rather, we see our six successful iterations so far in Singapore... as just tune-ups on the road to greater things.
"We want innovative ideas... so that our events can appeal even more widely and be even more imaginative, unique and relevant." Event organisers interested in running the events can apply from today and have until Aug 6 to do so.
The Straits Times understands that veterans in the endurance events industry, as well as new players, have expressed interest in putting forward a bid.
World Sport Group is keen to be a part of the OCBC event.
Said Adrian Staiti, its senior vice-president (Global Partnerships, Stadiums & Arenas): "We have great experience in delivering mass participation and endurance events around the world and we would welcome the chance to work with OCBC to bring some new and innovative ideas to what has historically been a very successful event."
The Malaysian leg of OCBC Cycle 2015 will be launched in the last quarter of the year, when more details about the Singapore edition will also be available.
With safety a top priority for the events, participation numbers are expected to continue to be capped.
Other than a mass cycling event, the bank also sponsors the OCBC Singapore Pro Cycling team, and has rolled out a year-long safe cycling campaign and supported the national road cycling championships.

This article was first published on July 22, 2014.
Get a copy of The Straits Times or go to straitstimes.com for more stories.