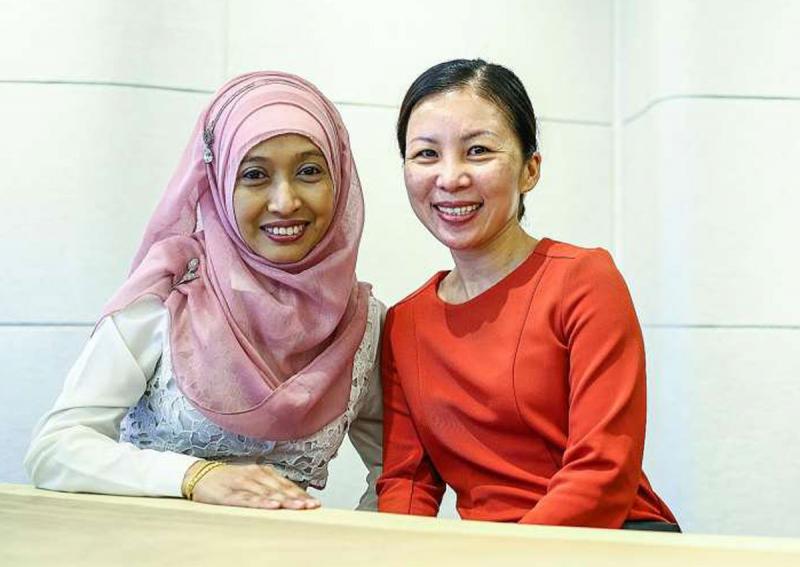 Support groups are typically found in welfare organisations and hospitals, offering people the chance to share their problems and provide emotional support to each other.
Now a major bank in Singapore is offering four - believed to be the first of their kind in the industry here - which focus on family issues.
OCBC's employee resource groups (ERGs) are for parents of teenagers, single parents, caregivers of the elderly and parents of children with special needs.
Other banks have ERGs on issues like workplace diversity, and after studying the trend in foreign countries, OCBC decided to introduce its own in 2014.
Two months ago, it launched its latest group for parents with children who have special needs. Twenty employees took part.
Ms Jacinta Low, head of human resource planning at OCBC, told The Straits Times: "We believe in the well-being of our employees and recognise that some face family-related stress and parenting challenges, and they do not know how or where to get help."
The lunchtime sessions are held once every two months. Each session is conducted by an experienced and trained external counsellor, who offers advice, chairs discussions and mentors participants.
About 280 employees have attended the ERGs to date, with some attending more than one group.
Besides being able to talk to others about the challenges they face, having a support group in the office offers the benefits of convenience and familiarity, according to counsellors and participants.
Customer service manager Lydia Chua, 45, attended a session for parents of children with special needs. Her 10-year-son has autism.
She attended a similar support group at a hospital two years ago, but stopped because it was inconvenient to go there. She said of the group at OCBC: "We shared our experiences and exchanged tips. I have made many wonderful friends and received support from them."
Ms Shuhana Suid, 48, a manager in the group risk management department, has attended sessions for single parents. For the divorcee with two children aged 13 and 15, the support from colleagues continues outside the ERG sessions.
She said: "I have made friends with colleagues from different departments who are single parents too. Very often, we would meet up for lunch or message each other to ask for advice."
Mr Jim Lim, founder of relationship consultancy Real Academy, chairs sessions in the group for single parents. He said: "We spend most of our waking and productive hours at our workplaces. Having ERGs there provides more accessibility and convenience in getting support."
Dr Chris Fong, a lead consultant from Optum Global Solutions, who leads sessions for single parents, and parents with teenage children, believes people are more willing to discuss their experiences with colleagues than with total strangers.
He said: "As Asians, we don't speak to strangers about our problems, but when the need arises, people look for help from professionals or personal friends."

This article was first published on Jan 5, 2016.
Get a copy of The Straits Times or go to straitstimes.com for more stories.