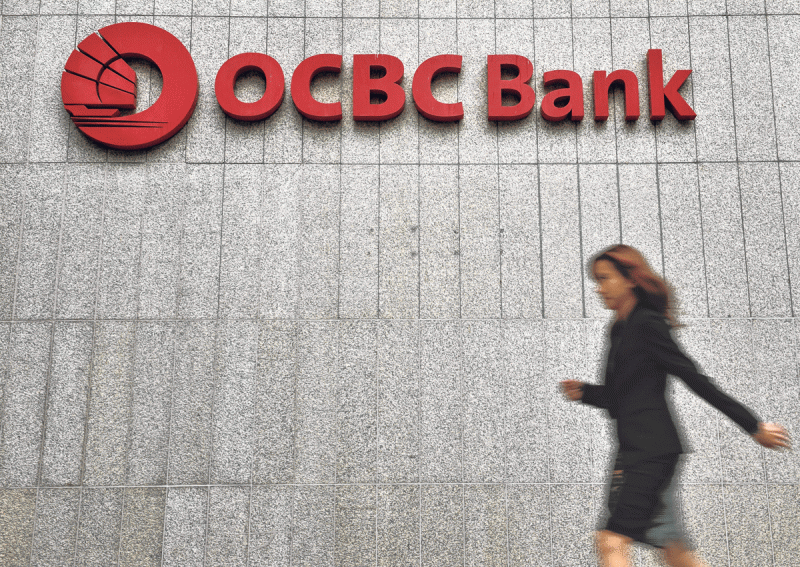 OCBC Bank yesterday reported rises in earnings for both the fourth quarter and full-year, even as chief executive Samuel Tsien warned of a rough patch ahead.
Net profit for the three months to Dec 31 jumped 21 per cent to $960 million from a year earlier.
The quarterly profit easily beat the average forecast of $872 million in a Reuters poll of six analysts.
The non-performing loan (NPL) ratio was 0.9 per cent, the same as the third quarter, but up markedly higher than 0.6 per cent a year ago.
Specific allowances on loans for the quarter was up 6 per cent to $76 million, for potentially non-performing accounts.
Mr Tsien told a press briefing that the operating environment was lacklustre, investor confidence was low, and he expected this to go on for the rest of the year.
"The market is volatile and visibility is low. There were some capital outflows from Asia, not just emerging Asia, into other economies."
The bank's NPL ratio could worsen in the tough environment, but Mr Tsien said: "It would not exceed the ones seen over the global financial crisis, which was 1.7 per cent. At its peak, it was 1.9 per cent."
The bank was not spared from the problems facing the oil and gas sector, and to some extent, China, as he noted how its economy is changing, which has led to falling demand for global commodities and products.
Mr Tsien said 0.39 per cent of the NPL ratio was contributed by the oil and gas non-performing loans, while a year ago, it was 0.01 per cent.
"It's quite clear OCBC is subject to these stressed assets in our portfolio. The issues there are well-contained but it doesn't mean the remaining portfolio is all rosy. Under the operating environment we are currently in, we will continue to be prudent and conservative."
Loans from oil and gas were 6 per cent of total customer loans - about $12.4 billion, down from $13.8 billion in the fourth quarter a year ago.
Some 47 per cent of the $12.4 billion oil and gas portfolio relates to offshore support services among others - an area "under more stress than the remaining portfolio".
But the bank has not had any loan restructuring requests, or seen cashflow issues, added Mr Tsien.
Fourth-quarter net interest income rose 5 per cent to $1.34 billion, which OCBC said showed growth in interest earning assets.
It also reported a 7 basis point rise in net interest margin to 1.74 per cent, boosted by higher loan yield.
Non-interest income surged 26 per cent to $960 million, on the back of a 5 per cent increase in fee and commission income, a 24 per cent increase in profit from life assurance and significantly higher net trading income.
Operating expenses for the quarter was up 6 per cent to $974 million, owing to higher staff and premises costs. Net allowances for loans and other assets for the quarter rose 25 per cent to $193 million.
Net profit inched up 2 per cent to $3.9 billion for the full year.
Excluding a one-off gain of $391 million, core net profit for the year was up 13 per cent. The group's results also included the full-year earnings contribution of OCBC Wing Hang, which became a subsidiary in the third quarter of 2014.
The absolute NPL volume for the 12 months to Dec 31 was $1.97 billion, up from $1.28 billion a year earlier .
Mr Tsien said: "Domestic loan demand in Singapore is very weak. On the business banking side, there are more customers looking for overseas opportunities in areas like Sydney, London and, to a lesser extent, the United States. We are supporting them in their endeavour overseas."
Earnings per share for the quarter was 90.7 cents, up from 77.4 cents a year ago. Net asset value was $8.03 as at Dec 31, up from $7.46 a year earlier.
OCBC proposed a final dividend of 18 cents a share, and the total dividend for the year is 36 cents a share, unchanged from the previous year. OCBC shares closed one cent higher at $7.78 yesterday.
AT A GLANCE
Q4 REVENUE: $2.3 billion (+13 per cent)
Q4 NET PROFIT: $960 million (+21 per cent)
FINAL DIVIDEND: 18 cents per share (unchanged)
rachaelb@sph.com.sg

This article was first published on February 18, 2016.
Get a copy of The Straits Times or go to straitstimes.com for more stories.