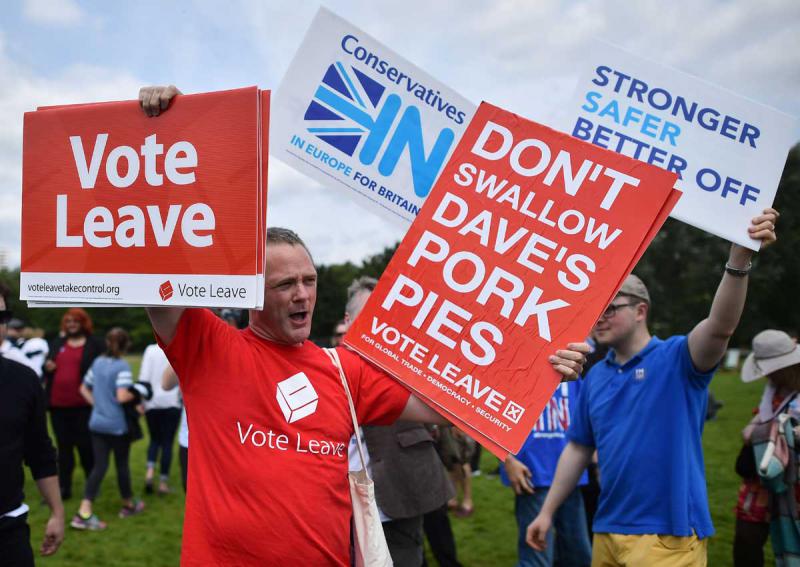 TOKYO/SINGAPORE - Oil prices slumped by more than 6 per cent on Friday after Britain voted to leave the European Union in a landmark referendum, causing huge market uncertainty and fracturing European efforts to forge greater unity.
Financial markets have been racked for months by worries about what Brexit, or a British exit from the European Union, would mean for Europe's stability, but were clearly not factoring in the risk of a leave vote.
The dollar fell below 100 yen for the first time since November 2013, while the pound dropped by the most in living memory.
Brent crude was down US$2.70 (S$3.61) at US$48.21 a barrel at around 0600 GMT (2pm Singapore time). US crude was down US$2.65 at US$47.46 a barrel.
Earlier, both futures were down by more than US$3 or more than 6 per cent, the biggest intra-day declines for both since April 18, when a meeting of large oil producers failed to agree on an output freeze.
"In the interim, it's down for everything from equities to oil. Bad economies in the UK and Europe are not good for oil and there could be a domino effect on other economies in Asia," said IHS oil analyst Victor Shum.
The result leaves the crude oil market in thrall to other drivers but even if the dust settles soon prices are likely to see swings, albeit around an equilibrium mark of US$50, he said.
Oil prices had risen more than 30 per cent this year before Thursday's fateful UK vote.
"Putting Brexit aside, the new oil order today is where we have prices and costs regulating the market not OPEC so we're going to see more price volatility than before," Shum said. "The fact that the oil market is re-balancing is still going to support oil prices at close to $50."
Japan's Nikkei index fell more than 1,300 points, the biggest fall since at least March 2011, when an earthquake and tsunami killed nearly 20,000 people and set off the Fukushima nuclear disaster.
Early opinion polls in the United Kingdom showed the "Remain" camp in the lead, giving markets a false sense of complacency. An Ipsos MORI poll put the lead at 8 points while a YouGov poll out just after polls closed found 52 per cent of respondents said they voted to remain in the EU while 48 per cent voted to leave.
The vote to break with Europe is set to usher in deep uncertainty over trade and investment and fuel the rise of anti-EU movements across the continent.
In the oil market it is also likely to impact plans for investment in new production, which had already slumped because of the fall in prices from the summer of 2014 to earlier this year.
"This means more market turmoil across the board and, in the oil markets in particular, it's likely to lead to lower investment in future production just as things looked like they were starting to turn," said Tom O'Sullivan, Tokyo-based director of SkippingStone, a US energy consultancy.