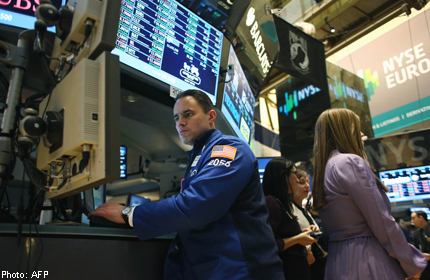 SINGAPORE - Oil prices rose in Asian trade Monday with dealers encouraged by better-than-expected earnings data on Wall Street, analysts said.
New York's main contract, light sweet crude for delivery in March gained seven cents to $95.95 a barrel and Brent North Sea crude for March delivery increased 16 cents to $113.44 "US corporate earnings are providing plenty of cause for optimism among market bulls who can already count on central bank liquidity and China's improving economy as driving forces," said a report from IG markets Singapore. "Energy prices have edged up among the euphoria."
On Friday the Dow ended at its highest level since October 2007 while the S&P 500 climbed above 1,500 points for the first time since December 2007, thanks to solid earnings results.
Among the stand-out performers was health and beauty goods maker Procter and Gamble, which said earnings more than doubled in the fiscal second quarter while it also increased its guidance for 2013 earnings.
There were also impressive results from Halliburton, AT&T and Starbucks. The uptick of the major indices underscored growing optimism in the US economy, which is also the world's biggest crude consumer.